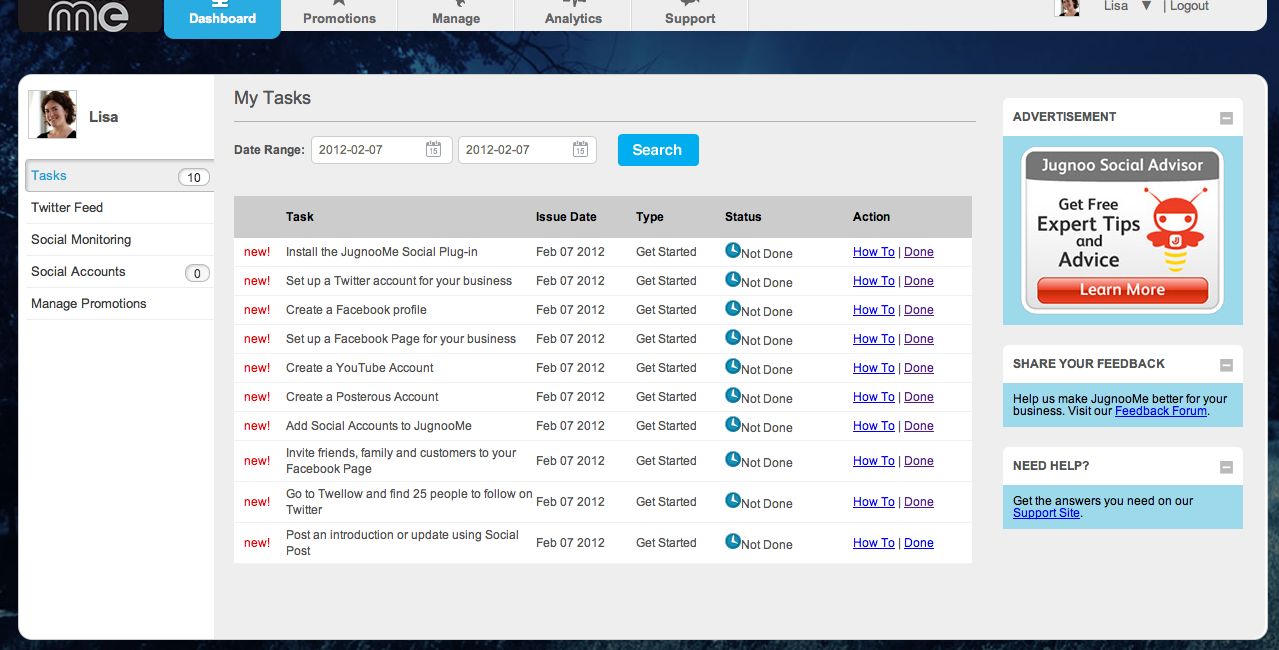 TORONTO — (Feb. 28, 2012) – Help has finally arrived for the business owner who knows they need to be social online but doesn't know how to do it in a way that drives results. Making sense of the social web just got easier with the release of JugnooMe™ (pronounced joognoo me), part of the Jugnoo vision to give businesses visibility on the social web.
JugnooMe™ is the first in a collection of proven social marketing tools designed to make the social web simple, accessible, and monetizable. Currently in open beta, it is a social marketing and engagement platform that addresses the barriers many business owners face when promoting their business and brand on the social web. Most don't have the expertise and time to do it properly nor the financial resources to access the right tools. This all-in-one, cloud-based platform brings together everything they need to understand and successfully implement their own social marketing, engagement, and commerce program.
What makes it different?
There are many social media applications and dashboards available on the market. Each one offers a different combination of features.
What sets JugnooMe™ apart from the competition:
The Social Advisor teaches and guides along the way, answering the question, "What do I do next?" Best practices, tips, and video tutorials are offered each step of the way from some of the best minds in the business.
It provides a simplified approach to social accounts management. Social media monitoring, reputation management, engagement, content creation, social commerce, and analytics are all under one "roof."
The Presence Map, to be released this spring, allows business and site owners to see where people and prospects are in real-time on the web, giving the opportunity for meaningful communication between owner and customer.
What is Jugnoo?
Jugnoo is Sanskrit for "firefly" symbolizing light from within. The social web is a vast ocean of connections and activities. The Jugnoo vision is to shine the light from within by giving businesses the critical ingredient to grow - increased visibility.
The social web comprises three eco-systems within which two billion users interact: Facebook for consumers, LinkedIn for professionals and now, Jugnoo for businesses.
"This is the beginning of a journey to reach our vision of a social web where everyone has the chance to truly be seen," explains Danny Brown, Jugnoo director of retention and social media. "We have proprietary platforms that will interconnect to offer the complete experience for social web users. JugnooMe™ is the first salvo."
Many businesses spend too much time promoting their brand, rather than helping their customer. They don't know how to identify and find their target markets. They need help engaging with their consumer base, and need to understand how to sell their products. They get frustrated when social media doesn't show results. So they give up.
How does it work?
JugnooMe™ allows easy participation in the social web quickly and cost-efficiently. The business owner installs the toolbar plug-in to their website and/or blog. In exchange for the use of this powerful platform, Jugnoo customers agree to give up a small piece of real estate on the toolbar for an un-intrusive pop-up ad.
What exactly does JugnooMe™ do?
Social media management tools make it easy to build visibility and engage with new customers.
Content creation and syndication tools allow business owners to microblog, create video, slideshows and coupons, and deploy contests on social networks, such as Facebook.
A powerful suite of analytics allows businesses to track, measure, and achieve results.
This is just the beginning of the Jugnoo journey to give both consumers and businesses the tools and services they need to understand and truly shine on the social web.
There is no need to wait. Businesses can learn more and sign up for the JugnooMe™ open beta at jugnoome.com/
About Jugnoo
Jugnoo is a Toronto-based Internet media technology company. Meaning "firefly" in Sanskrit, the technology behind Jugnoo is designed to help small- to medium-sized businesses fire up their presence on the social web.
*Source: Booz and Company, Access Markets International (AMI) Partners