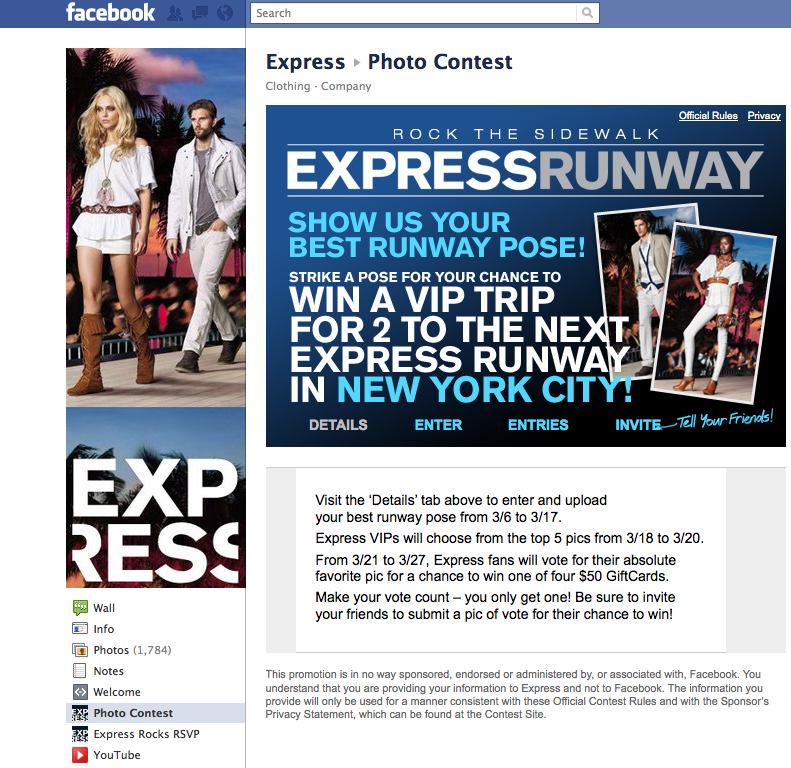 As
social media
continues its domination, fashion retailer powerhouses continue to strengthen their already strong brand images through Facebook. Interactive profiles make it easy for consumers to share their opinions, play games, and stay connected while having fun from the convenience of their computers.
"When someone's favorite clothing store responds to that person's individual concern, it means a lot," said KAAB Communications representative Anne Smith. "It's also a great way for consumers to see what is going on beyond the digital scene. They are connected, feel involved, and are more inclined to make a purchase."
- Facebook contests allow fans to participate in races to win prizes. For example, Express is running a contest for users who upload pictures of their best runway poses. The winner receives tickets to Express' fashion show in New York City
- Using the interest of following consumers, companies post information that is not only centered around their products but also about what's going on in the world, as it relates to their fans. For example, Banana Republic recently made a post expressing concern for Japan's earthquake victims
- In regular wall posts, these clothing companies propose open-ended questions that allow fans to communicate and provide opinions and feedback. Replies from the companies to users provides optimum two-way communication between the retailer and consumer
- Company profiles on Facebook are also great tools for giving fans easy access to make purchases and stay up-to-date on the latest trends and deals in real time. Victoria's Secret, H&M, and Banana Republic, among others, all have
gift card
or shopping links right on their Facebook profiles
- Customization of Facebook tabs allows clothing companies to really connect and create a platform that is interactive and fun.
Abercrombie & Fitch
has a tab where users can vote on which models they would like to see in the company's next campaign. Others create polls as a way to gain feedback on what their product lines are missing or in what ways consumers would like to see improvement. Tabs could also include fashion look books, corporate careers, and links to
other social media platforms
"It's no surprise that Facebook is allowing companies to be even more successful," said KAAB Communications representative Bob Jones. "But the way the ten clothing retailers listed below have taken social media and ran with it are exquisite examples of how attentiveness, creativity, and interaction on Facebook is essential. And it works wonders."
Facebook Profiles Analyzed:
1. GAP
2. Abercrombie & Fitch
3. American Eagle
4. PacSun
5. Forever 21
6. Charlotte Russe
7. Banana Republic
8. Victoria's Secret
9. Express
10. H&M
For more information contact Anne Smith at kaab473@yahoo.com
KAAB Communications is a full-service public relations firm specializing in fashion PR. The agency's goals are to gain media coverage and increase brand recognition of its clients. The firm regularly practices a wide spectrum of strategies ranging from web-based promotions to crisis communications.