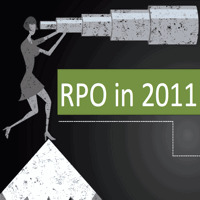 The Global RPO Report 2011 conducted by the Outsourcing and Consulting Group of Kelly Servicesr, KellyOCG, in partnership with the Human Resource Outsourcing Association (HROA), HR.com and Human Resource Executive magazine is now available. The fourth annual report presents a picture of global business leaders' views and practices related to recruiting and
recruitment process outsourcing
(
RPO
).
Participating organizations, representing a wide variety of industries, employ anywhere from less than 1,000 employees to more than 50,000 employees.
"When KellyOCG initiated this research effort in 2007, the healthy world economy resulted in significant difficulties in recruitment, and as a result, nearly 70 percent of respondents reported recruiting challenges," said
Candy Lewandowski
, vice president and global practice leader, RPO for KellyOCG. "In 2008, the economy's infirmity meant an improvement in recruiting and as the 2009 Report indicated, only 54 percent of organizations reported experiencing recruitment difficulties followed by 55 percent in 2010. This year's stabilization of global economic health meant stabilization in the recruitment challenge, with virtually the same number - 50 percent - indicating recruiting challenges. This is a slight improvement on the situation in the previous year."
"The Global RPO Report offers staffing and recruiting executives from multi-national companies' actionable insights for improving the competitiveness of their firms," said Richard Crespin, president of SharedXpertise, publishers of HRO Today Magazine and managers of the HROA. "Our members and readers will benefit from its insights."
"We are pleased to have the opportunity to participate in this research and report. The Institute of HR (IHR) - RPO program produced by HR.com was created due to increased interest in recruitment outsourcing by our 194,000 members," said Debbie McGrath, chief executive office, HR.com. "This, coupled with the ever changing world of talent acquisition and interest in recruitment strategies and best practices, will make this Global RPO Report invaluable to our members."