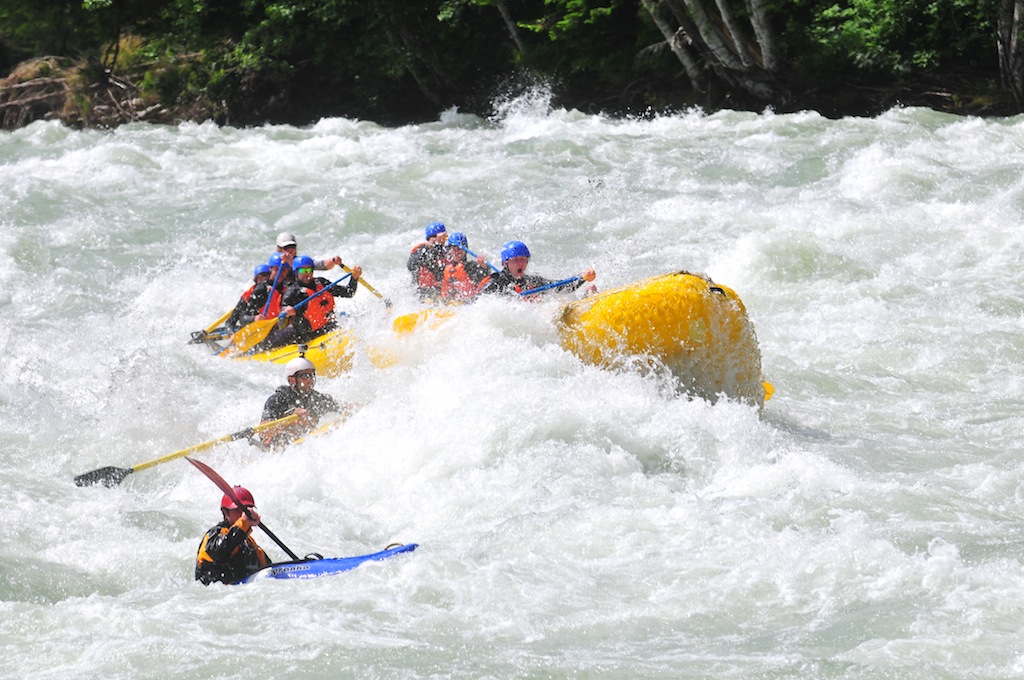 FOR IMMEDIATE RELEASE
Melissa Trottier
Ph: (604) 905-0933 Fax: (604) 932-0328
Email: melissa@kicommunications.ca
www.sunwolf.net
BRACKENDALE, BRITISH COLUMBIA, April 17, 2012 – With summer right around the corner, it's time to get planning. To help you get ready for summer, Sunwolf is offering a special early booking deal of 20% off any of its rafting programs and packages booked by June 15, 2012. The trips can take place at any time through their summer season, which runs from May 15 to September 15, 2012. For a summer season getaway, the "Splash and Stay" package combines dinner, accommodation, breakfast and a thrilling whitewater rafting expedition on the Elaho River with fresh salmon BBQ lunch. Priced at $399 for two, the package offers savings of $81.
Located only 45 minutes from Downtown Vancouver and 30 minutes from Whistler Village, Sunwolf offers accessible breathtaking outdoor adventures in the heart of the Coast Mountains.
Splash and Stay
The 'Splash and Stay' rafting and accommodation package takes advantage of the resort's full-service private riverside cabins. Set along the banks of the Cheakamus, guests can meander through woodland trails listening to the birds chattering, gaze at spectacular views of Mount Alpha from the hot tub, or curl up in the cabin listening to the sound of the Cheekye flowing by. Featuring hardwood floors, vaulted ceilings, gas fireplaces, handmade pine furniture and en-suite shower rooms, the 'Splash and Stay' package promises great value and a good night's rest before heading out on an exhilarating day on the Elaho River.
Elaho River Expedition
Power your way through some of the most spectacular scenery in British Columbia on over 18 km of nearly continuous whitewater. The Elaho valley is an unspoiled wilderness, with old growth forests, hanging glaciers, cascading waterfalls and two mighty class IV rivers. In the hands of Sunwolf's internationally experienced guides, trained well above the industry standard, guests can rest assured that they're in good hands. The full-day Elaho River Expedition includes a gourmet salmon BBQ on a private beach and snacks at the end of the day, full wetsuit, gear and professional river guide. The early season booking special is priced at $124.
Scenic Family Float
If the adrenaline rush of white water isn't what you're looking Sunwolf offer a more mellow rafting trip down the Cheakamus. Gently float on crystal clear waters through the Paradise Valley, a haven for wildlife including black bear, cougar, deer, coyote, and a variety of waterfowl. With stunning views of the Tantalus Mountains and a few fun splashes along the way, the Scenic Family Float is the perfect rafting trip for all the family. The trip includes tea/coffee/hot chocolate on arrival, homemade snacks at the end of the trip, full wetsuit, gear and professional river guide. The early season booking special is priced at $76 for adults and $60 for kids under 12yrs.
For more information or for reservations, visit www.sunwolf.net or call (604) 898-1537 or toll free at 1 (877) 806-8046.
About Sunwolf
Located in the stunning Coast Mountains, between the Vancouver and Whistler, British Columbia, Sunwolf boasts some of BC's best whitewater rafting, year-round fresh water fishing and riverside cabin accommodation. Sunwolf is family-run business specializing in personalized and professional experiences. For more information, visit www.sunwolf.net or call 1 (877) 806-8046 for reservations and bookings. Follow us on twitter @Sunwolf_BC.
-30-