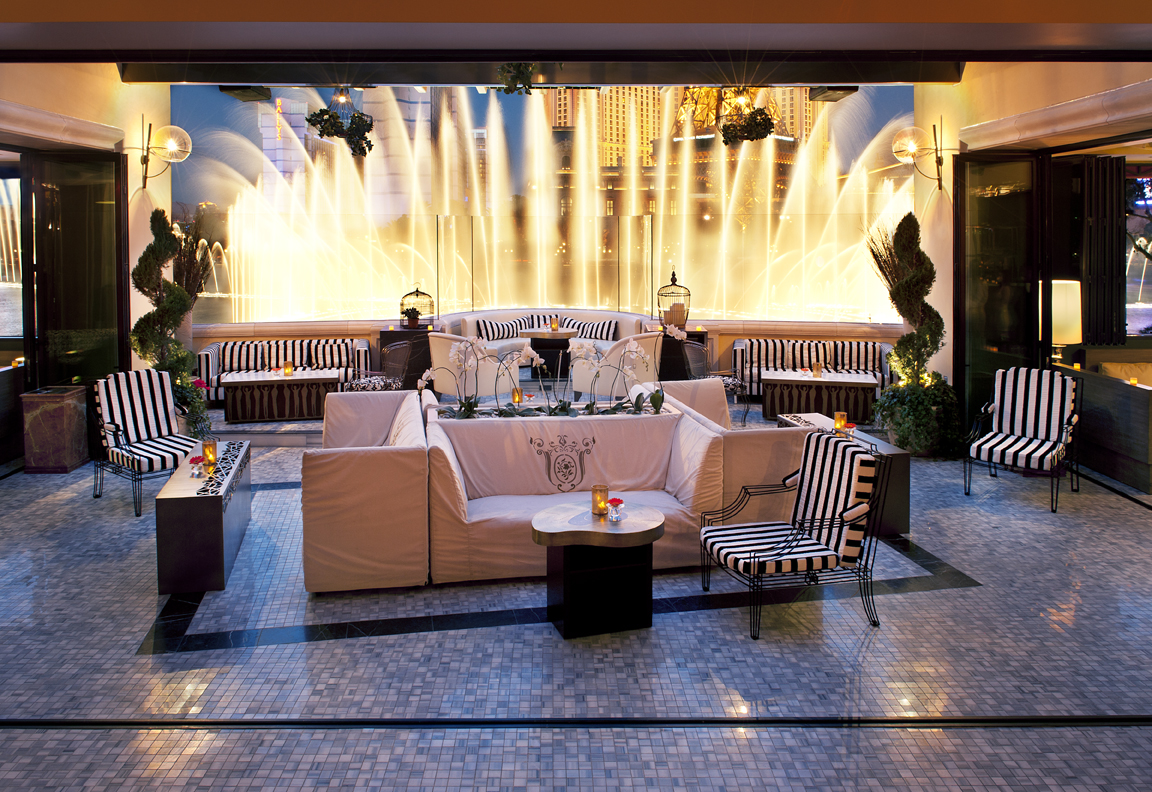 LAS VEGAS – In time for summer, Hyde Bellagio introduces "Fountains at 5," inviting guests to unwind and welcome the weekend while sipping summery libations and sharing small bites with good company every Friday evening.
"Fountains at 5" is the only cocktail hour(s) in Vegas that provides a center-stage view of the famed Fountains of Bellagio. Inside the lavish new venue, a DJ plays an eclectic mix of upbeat sounds by a wide range of artists and genres from behind Hyde's dramatic fireplace.
While the summer sun heats up Sin City, guests at Hyde Bellagio remain cool as a "Cucumber Watermelon Margarita" – one of the many signature cocktails made from house-pressed juices and seasonal herbs available during "Fountains at 5." In addition to these fresh sips, Hyde's expert mixologists serve unique and refreshing $75 pitchers, perfect for sharing with six to eight friends:
Strawberry Basil Lemonade – Bombay Sapphire East Gin and Ultimat Vodka muddled with fresh strawberries and basil makes for a sweet and savory combination that dances on the tongue.
Peachy Summer Bliss – Stoli Peachik Vodka and fresh cucumber water are mixed with white cranberry in perfect harmony, ideal for sipping while the sun sets over The Strip.
Spicy Hurricane – Bacardi Anejo Rum swirled with orange and passion fruit purees and jalapeño juice create a refreshing libation that is both sweet and spicy.
Sangria – Available in red or sparkling white, this house-made favorite mixes Stoli Razberi Vodka and Soho Lychee Liqueur with fresh oranges and mint for a refreshing take on a classic cocktail.
Guests are encouraged to begin the party early and stay late as the venue transforms into Vegas' hottest nightclub. For more information or to reserve a table, call 702-693-8700.To follow Hyde Bellagio, visit Facebook and Twitter.
###
About Hyde Bellagio
Hyde Bellagio is the first nightlife venture in Las Vegas by renowned hospitality leader sbe. Boasting a seamless indoor/outdoor space and floor-to-ceiling windows, Hyde Bellagio features an expansive terrace that showcases Las Vegas' most-celebrated landmark, the Fountains of Bellagio. Hyde Bellagio introduces an exclusive early-evening experience beginning at 5 p.m., highlighted by an award-winning mixology program and a menu of gourmet small plates from Circo. Long after the sun sets, Hyde Bellagio evolves into Vegas' hottest nightlife destination with 40 VIP tables, a diverse rotation of DJs, live performances and the city's most exclusive clientele. Hyde Bellagio is open nightly 5 p.m. to 1 a.m. and Tuesday, Friday and Saturday 10 p.m. to late. Every Tuesday, Hyde celebrates its 'Lost Angels' insider night, delivering the unfiltered sounds and style of LA. Every Saturday, late night meets daylight with a party that begins at 1:30 a.m. and delivers hot, up-and-coming house beats. One Sunday a month, XIV Vegas Sessions brings the unparalleled day party that redefined the L.A. club scene to the Las Vegas Strip for an outrageously imaginative party that starts as the sun sets and doesn't end until it rises again.
FOR MORE INFORMATION
Kaley Briesmaster / Maddie Meister
Kirvin Doak Communications
702-737-3100
kbriesmaster@kirvindoak.com /
mmeister@kirvindoak.com