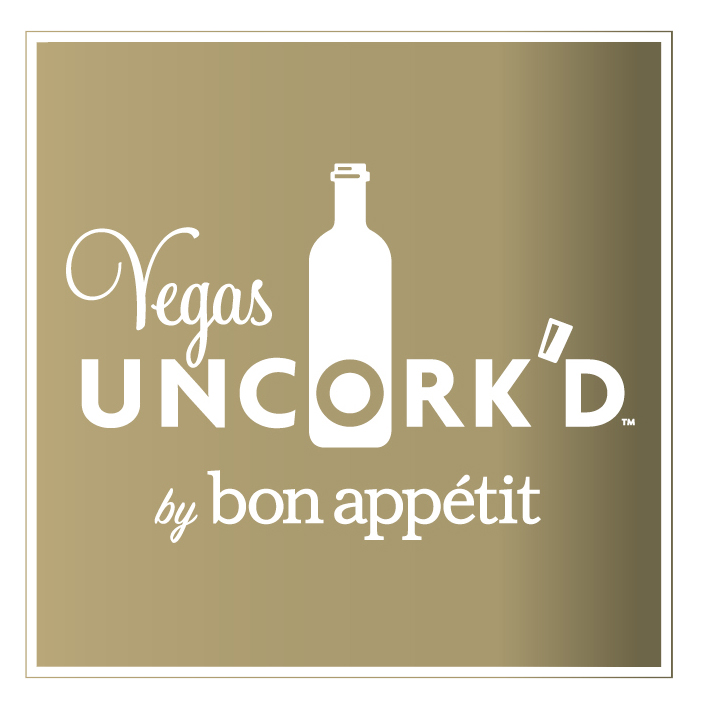 Las Vegas – With less than a month until the Las Vegas Strip becomes a culinary hot zone for the sixth annual Vegas Uncork'd by Bon Appétit, tickets to the event's most celebrated offerings are selling fast. Bellagio, Caesars Palace, The Cosmopolitan of Las Vegas and Mandalay Bay are joining forces with Bon Appétit May 10-13 to present a world-class slate of culinary experiences and though some events are already at capacity, there are still limited tickets available for a selection of one-of-a-kind events including:
Spago's 20th Anniversary Lunch with Wolfgang Puck and Company, Thursday, May 10: Don't miss a chance for an exclusive, intimate meal with Wolfgang Puck, the chef who started the fine dining scene in Las Vegas. Bon Appétit's editor in chief Adam Rapoport co-hosts this spectacular lunch at the Forum Shops at Caesars Palace to celebrate Spago's 20th Anniversary - which also includes past and present Spago Executive Chefs David Robins and Eric Klein. Chefs will share personal anecdotes from the kitchen and 20 years in the Las Vegas fine dining scene while you enjoy a four-course meal with wine pairings.
Master Series Dinner: And Then There Were Two with Michel Richard, Thursday, May 10: Renowned chef Michel Richard is joined by his James Beard award-winning staff at his new Las Vegas restaurant, Central. Don't miss this once-in-a-lifetime opportunity to experience a collaboration of Richard's two teams showcasing the food and techniques that won them the title of Best New Restaurant.
Mix-off, Friday, May 11: Overlooking The Fountains of Bellagio, guests enjoy a dynamic cocktail competition featuring Bellagio Master Mixologist Matt Myers, Hyde Bellagio Mixologist Jose Zepeda and other cocktail talent from across the country. Sample each cocktail and vote for your favorite during a tasting hosted by Bon Appétit Restaurant & Drinks Editor Andrew Knowlton. Small bites from Executive Chef Patrick Lee of Noodles accompany the cocktail extravaganza.
Celebrity Chef Poker Tournament, Friday, May 11: Celebrity Chefs and attendees rub elbows as the Boulevard Pool at The Cosmopolitan of Las Vegas is transformed into a true hands-on gaming experience. Enjoy a world-class poker tournament, live performances by DJ Who and Paulo, flavorful dishes from STK, a unique menu of handrolls from Blue Ribbon Sushi Bar & Grill and specialty cocktails from David Myers' 18A cocktail program. Player ticket includes a seat in the poker tournament and fans can purchase spectator tickets. First prize of $2,500, second prize of $1,500 and third prize of $1,000 will be donated to Communities In Schools and Vegas Roots.
The Nature of a Good Party with Alain Ducasse, Saturday, May 12: Take advantage of this extraordinary event to meet celebrity chef Alain Ducasse over a glass of champagne and enjoy the five-course Taste of miX menu, created by the chef, with wine pairings. Leave full and happy with a signed copy of the chef's latest cookbook, "Nature: Simple, Healthy, and Good."
At the Fish Market with Costas Spiliadis, Saturday, May 12: Here's an opportunity for food lovers to release their inner chefs. Join chef and restaurateur Costas Spiliadis as he shares his secrets to finding the most quality fish at the market, how to distinguish between high- and low-quality fish, best preparations and practices for making fish at home and healthy eating through the Mediterannean diet.
Sold-out events include Chronicles of a Couple that Cooks Together with Jean-Georges Vongerichten; Master Pastry with Francois Payard; Master Series Dinner: Spices of Life with Bobby Flay; Paella Lunch with José Andrés; Rao's On The Grill: Italian Brunch with the Pellegrinos; Sip, Swirl & Select Like A Sommelier with Bellagio Wine Director Jason Smith; Too Hot Tamales Live Demonstration with Susan Feniger and Mary Sue Milliken; Uptown/Downtown and Unusual Pairings.
To purchase tickets and for more information about the 2012 Vegas Uncork'd by Bon Appétit, please visit www.VegasUncorked.com.
ABOUT Bon Appétit Magazine
Bon Appétit and bonappetit.com, the fastest-growing epicurean site, deliver not just recipes, tips and techniques, but a world of lush travel, high-gloss entertaining and up-to-the-minute restaurant coverage. It's a visually arresting publication, driven by excellent photography, clean graphics and headlines that pop. And notable faces, too: Each issue features of-the-moment tastemakers, from chefs and restaurateurs to fashion designers and celebrities. All of these elements combine to make Bon Appétit the largest epicurean magazine in America with the most affluent readership.
Bon Appétit is published by Condé Nast, a division of Advance Publications, which operates in 25 countries. In the United States, Condé Nast publishes 18 consumer magazines, two trade publications and 27 Web sites that garner international acclaim and unparalleled consumer engagement.
ABOUT THE LVCVA
The Las Vegas Convention and Visitors Authority (LVCVA) is charged with marketing Southern Nevada as a tourism and convention destination worldwide, and also with operating the Las Vegas Convention Center and Cashman Center. With approximately 150,000 hotel rooms in Las Vegas alone and more than 10 million square feet of meeting and exhibit space citywide, the LVCVA mission centers on attracting ever-increasing numbers of leisure and business visitors to the area. For more information, go to www.lvcva.com or www.VisitLasVegas.com.
###
Media Contact:
Frederika Brookfield
Bon Appétit
212.286.3508
frederika_brookfield@condenast.com
Claudia Balfe-Taylor
Kirvin Doak Communications
702.737.3100