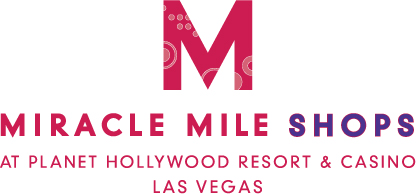 Tweet It: Toss your coins into the fountain at @MiracleMileLV @phvegas all March to benefit @mssociety! #CareGiveChange
LAS VEGAS - This March, Miracle Mile Shops at Planet Hollywood Resort & Casino turns its fountain orange in honor of the National Multiple Sclerosis Society. All change tossed into the popular water feature as well as the indoor rainstorm will benefit National Multiple Sclerosis Society's Southern California & Nevada Chapter as part of the center's Caring, Giving, Changing community campaign.
Starting March 1, the fountain at Miracle Mile Shops will display an orange hue between regularly scheduled water shows and will keep its orange glow through the end of the month. Regularly scheduled water shows take place at the top of each hour from noon to 11 p.m. daily.
A collective of passionate individuals, the National Multiple Sclerosis Society envisions a world free of multiple sclerosis. Multiple sclerosis is a chronic, and often disabling, disease that attacks the central nervous system. Since the disease stops people from moving, the Society works to mobilize people and resources and drive research towards prevention, treatment and a cure.
The partnership between Miracle Mile Shops and the National Multiple Sclerosis Society is part of the center's Caring, Giving, Changing campaign, celebrating a year of change in 2012. In addition to the monthly fountain fundraisers, the Caring, Giving, Changing campaign also raises funds for other programs and organizations through community sponsorships, additional partnerships and a number of cash and in-kind donations. In previous months the center has teamed up with the American Heart Association (February) and Children's Miracle Network Hospitals (January). In 2011, Miracle Mile Shops raised a total of $100,000 for numerous local and national non-profit organizations and aims to surpass that number in 2012.
About the National Mulitple Sclerosis Society:
MS stops people from moving. The National MS Society exists to make sure it doesn't. We help each person address the challenges of living with MS. Last year alone, through our national office and 50-state network of chapters, we devoted over $161 million to programs that enhanced more than one million lives. To move us closer to a world free of MS, the Society also invested $40 million to support 325 new and ongoing research projects around the world. We are people who want to do something about MS now. Join the movement at www.nationalMSsociety.org.
About Miracle Mile Shops:
Miracle Mile Shops at Planet Hollywood Resort & Casino is a 1.2 mile retail/entertainment complex at the heart of the famed Las Vegas Strip featuring 170 specialty stores, 15 restaurants and three live entertainment venues. The center is home to PBR Rock Bar & Grill, boasting a Strip-side location with excellent food, drinks and bull riding; H&M; Sugar Factory, the sweet shop adored by Hollywood's hottest celebrities; American clothing line and complete lifestyle brand Original Penguin; GUESS; Urban Outfitters; True Religion Brand Jeans; 15,000-square-foot bar and restaurant Cabo Wabo® Cantina; Las Vegas' very own Sin City Brewing Co.; Club Tattoo, featuring some of the best tattoo artists and body piercers in the nation; the first House of Hoops by Foot Locker in the city; as well as a multi-million dollar fountain show. Miracle Mile Shops is owned by David Edelstein and Aby Rosen, in conjunction with leasing and marketing consultant Robert K. Futterman & Associates LLC.
Miracle Mile Shops is open 10 a.m. - 11 p.m. Sunday – Thursday and 10 a.m. – midnight Friday – Saturday. For more information, call (888) 800-8284 or visit www.miraclemileshopslv.com. Keep up with the latest Miracle Mile Shops news via Facebook, Twitter and YouTube.
For More Information:
Brad Seidel / Wendy Sloan
Kirvin Doak Communications
(702) 737-3100
bseidel@kirvindoak.com / wsloan@kirvindoak.com
###