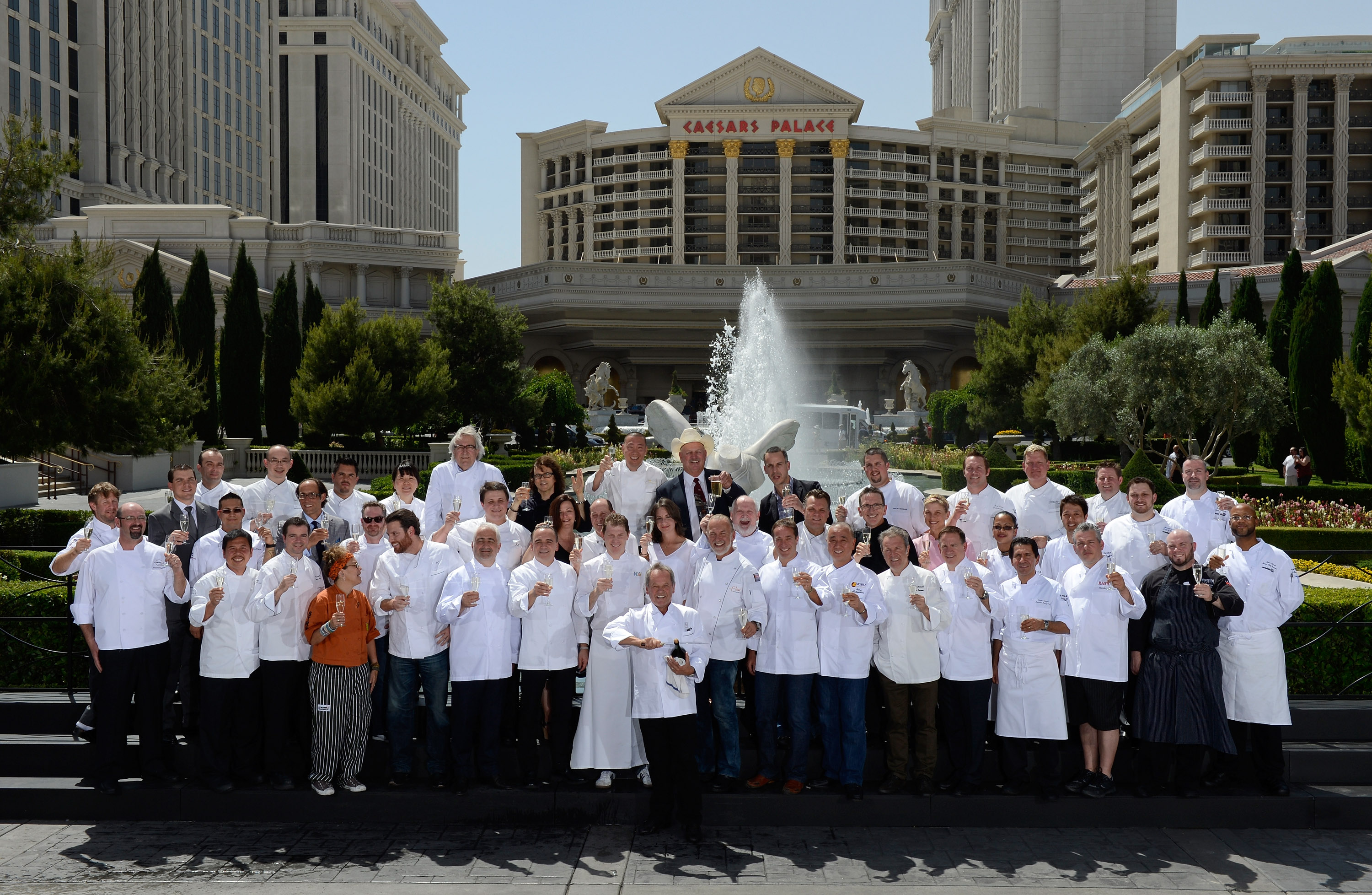 Vegas Uncork'd kicked off the weekend with Wolfgang Puck hosting an intimate lunch with Bon Appétit Editor in Chief, Adam Rapoport at the Forum Shops at Caesars Palace. As Wolfgang joked about his doubts of Spago's success in Las Vegas, he talked about Spago's eventual success as it celebrates its 20th anniversary. In addition to treating guests to personal anecdotes, he also served up Austrian White Asparagus Salads, Grilled French Sea Basses Loup De Mer and Strawberries & Cream.
After the intimate luncheon, chefs from Bellagio, Caesars Palace, The Cosmopolitan of Las Vegas and Mandalay Bay descended on the Caesars Palace fountains to officially mark the beginning of Vegas Uncork'd. There were rounds of cheers from both chefs and spectators as Wolfgang Puck sabered off a bottle of Mionetto Prosecco. Sparkling wine gushed out when Wolfgang accidentally dropped the bottle, and Susan Feniger of Border Grill shared a laugh with Scott Conant of Scarpetta when they were caught in the spray of wine.
Later in the evening, Caesars Palace hosted a series of Master Series Dinners where Guy Savoy, Bobby Flay, François Payard, The Pellegrino Family and Michel Richard served up signature dishes at the same time to a crowd of hungry diners.
Internationally renowned chef and restaurateur Guy Savoy welcomed guests to his Caesars Palace restaurant for a multi-course meal at Dinnertime Decadence with Guy Savoy. Savoy served up Poached Guinea Hen, Morels and Asparagus.
Over at Mesa Grill at Caesars Palace, Bobby Flay ignited taste buds with his signature Southwestern cooking at Spices of Life with Bobby Flay. Guests enjoyed Preserved Duck Salad and BBQ-Braised Pork Shoulder while rubbing elbows with the famed chef.
François Payard did not disappoint with his French fare at the Master Series Dinner: French Elegance with François Payard. From excellent food to the top of the line wine selection, Payard had his guests in awe of the exceptional cuisine.
Michel Richard joined the epicurean fun with his James Beard award-winning staff at his new Las Vegas restaurant, Central. The Central team wowed food lovers at the intimate Master Series Dinner: And Then There Were Three with a selection of French fare. Sophie Gayot presented Michel with a plaque announcing Central as one of the top 10 new restaurants for 2012.
Last but not least of the Master Series Dinners, The Pellegrino Family hosted a multi-course Italian feast at their famed Rao's Italian Restaurant. Guests enjoyed the family's southern Neopolitan dishes served family-style while Frank Pellegrino Jr. floated from table to table, ensuring that his guests enjoyed the true Italian experience.
To wrap up the first night of Vegas Uncork'd, 15 of Las Vegas' most sought after food trucks descended on Bellagio's Hidden Drive for Follow That Food Truck. Guests enjoyed bites from Sin City Wings, Fatt Daddy's Ice Cream and Bens BBQ food trucks and more, while mingling with world-renowned chefs such as Julian Serrano, Michael Mina, Jean-Georges Vongerichten and Todd English.