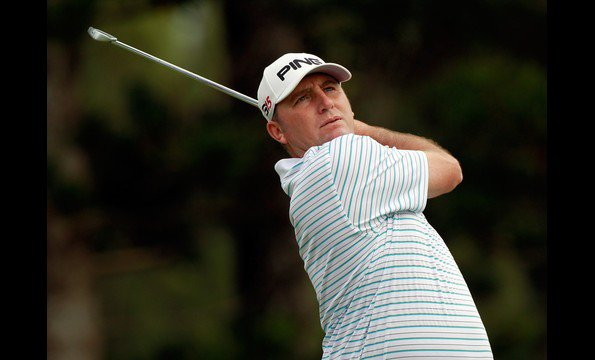 ROCHESTER, N.Y., September 26, 2011 - The final four hole stretch of the $1 million Kodak Challenge competition kicks this week at the Justin Timberlake Shriners Hospitals for Children Open. UNLV alum Bill Lunde returns to Las Vegas with a two-stroke lead as the Kodak competition visits the par 5 No. 16 at TPC Summerlin on September 29-October 2.

As of 9/26, nine PGA TOUR pros are within four strokes of Lunde, who currently holds sole possession of first place at 17-under-par. Cameron Tringale is the closest competitor at 15-under. Charley Hoffman, Lunde's college teammate at UNLV, is three strokes back at 14-under. Tringale and Hoffman are among eight pros within four strokes of Lunde playing in Las Vegas this week.

Lunde held at least a share of the Kodak Challenge lead for 18 consecutive holes, since posting a birdie on the final hole of the Arnold Palmer Invitational on March 25.

The Kodak Challenge celebrates beautiful holes and memorable moments on the PGA TOUR and challenges players to perform their best on 30 designated Kodak Challenge holes. Golfers must play at least 18 of the 30 designated Kodak holes. The player with the lowest cumulative score on his best 18 Kodak Challenge holes secures the winner-takes-all $1 million. The Kodak Challenge concludes on No. 17 at the Children's Miracle Network Classic on October 23.

TPC Summerlin's No. 16 Last Par 5 on Kodak Schedule

The 560-yard hole No. 16 at TPC Summerlin is the last par 5 of the 2011 Kodak Challenge schedule. Hole No. 16, which was the easiest hole on the course a year ago, provides Kodak contenders with a tremendous late-season scoring opportunity. In 2010 there were 23 eagles scored on the charitable par 5, including one by current Kodak contender Josh Teater. Teater, who is three shots behind Lunde, sunk a 51-footer for eagle during the final round of the 2010 Justin Timberlake Shriners Hospitals for Children Open


Kodak Challenge Leaderboard (As of 9/28)
Name Holes Played Score
Bill Lunde 20 -17
Cameron Tringale 20 -15
Blake Adams 22 -14
Josh Teater 21 -14
Charley Hoffman 17 -14
Kevin Stadler 20 -13
Spencer Levin 19 -13
Jarrod Lyle 19 -13
Chris Stroud 19 -13
Vaughn Taylor 19 -13

Kodak's marketing partnership with the TOUR includes the designation as Official Imaging Provider of the PGA TOUR, Champions Tour and Nationwide Tour, including cameras, printers and scanners. For more on the Kodak Challenge visit pgatour.com/kodakchallenge. Fans can also follow the Kodak Challenge at facebook.com/kodakchallenge, twitter.com/kodakchallenge, and 1000words.kodak.com/kodakchallenge.

About Kodak

As the world's foremost imaging innovator, Kodak helps consumers, businesses, and creative professionals unleash the power of pictures and printing to enrich their lives. To learn more, visit http://www.kodak.com and follow our blogs and more at http://www.kodak.com/go/followus. More than 75 million people worldwide manage, share and create photo gifts online at KODAK Gallery - join today at www.kodakgallery.com.

About PGA TOUR

The PGA TOUR is the world's premier membership organization for touring professional golfers, co-sanctioning more than 100 tournaments on the PGA TOUR, Champions Tour and Nationwide Tour.

The PGA TOUR's mission is to entertain and inspire its fans, deliver substantial value to its partners, create outlets for volunteers to give back, generate significant charitable and economic impact in communities in which it plays, and provide financial opportunities for TOUR players. In 2011, the three Tours collectively have tournaments in 29 states and in 12 countries and territories outside of the United States. PGA TOUR tournaments are broadcast to nearly 600 million households in 225 countries and territories in 30 languages.

Virtually all tournaments are organized as non-profit organizations in order to maximize charitable giving. In 2010, tournaments on the three Tours generated more than $120 million for local charitable organizations, bringing the TOUR's all-time total of charitable contributions to more than $1.6 billion. The PGA TOUR's web site is PGATOUR.COM, the No. 1 site in golf, and the organization is headquartered in Ponte Vedra Beach, FL.