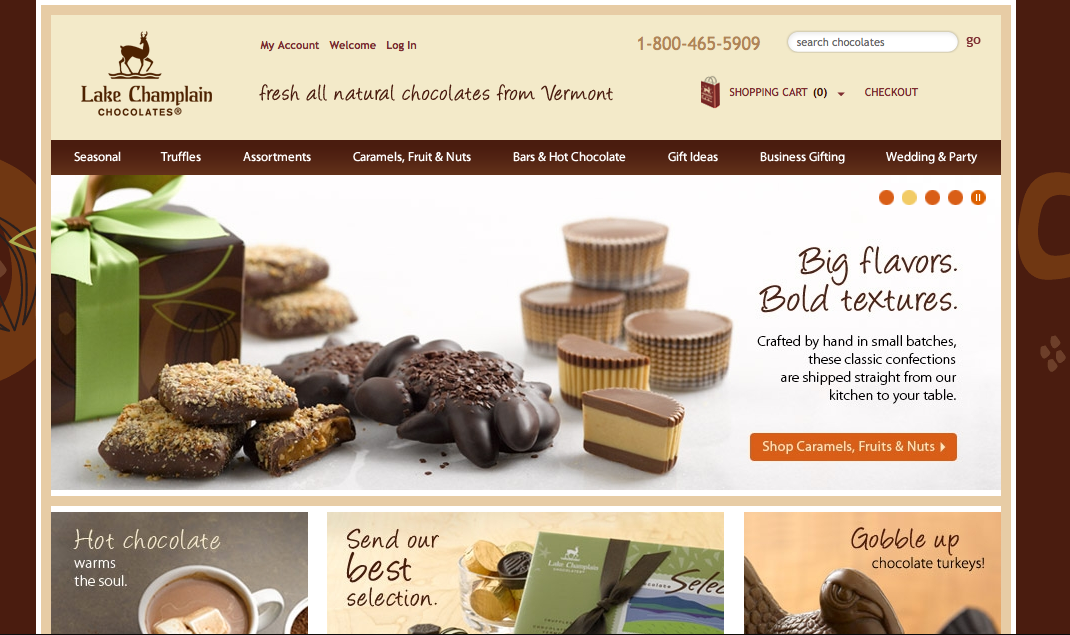 Just in time for the holiday season, Lake Champlain Chocolates, a gourmet chocolatier in Burlington, Vt., is pleased to announce the launch of a newly redesigned website. The new site was designed in collaboration with Grand River, a leading e-commerce developer in Ann Arbor, Michigan.

Lake Champlain Chocolates' new website provides a seamless shopping experience for the customer, with better navigation, larger images and an easy-to-use shopping cart. The customer will also find a video showcasing how Lake Champlain Chocolates are made and a new section called I Love Chocolate that includes chocolate pairings, recipes, tips and terms.

"Our goal is for a visitor to come to our site and be able to quickly find exactly what they need, whether it is a birthday present, a favorite chocolate bar, favors for an event or corporate gifts," said Greg Tickle, Online Marketing Manager. "And by working with Grand River, we feel we have succeeded in creating an enjoyable and efficient shopping experience for all of our customers."

The new site also better reflects the premium nature of the brand. Lake Champlain Chocolates are crafted in small batches using fresh, local ingredients including Vermont cream, pure maple syrup and local honey.

"We really wanted the website to mirror the experience a customer has when visiting one of our company-owned stores," said Jim Lampman, owner and founder of Lake Champlain Chocolates. "The high quality photography, the video, the blog - they all help tell the story of who we are. Our hope is that we make a connection with people coming to our site, even if they have never visited us in Vermont."

The website's new platform will enable Lake Champlain Chocolates to more easily maintain and update the site, keeping customers informed of events, news and product introductions as they happen at the company.

All Lake Champlain Chocolates' products are all natural, preservative free and kosher certified. For more information about the company, please visit www.LakeChamplainChocolates.com.