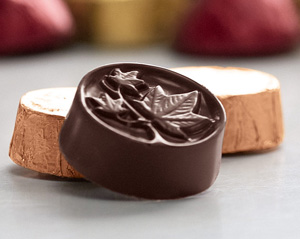 (Burlington, VT) Lake Champlain Chocolates (LCC) is kicking off the sugaring season this year by celebrating all things maple. Come experience how pure maple syrup gives our chocolates a true taste of Vermont. There will be free samples of all of our products that use maple syrup on Saturday March 19th from 12-4pm at the 750 Pine Street Factory Store & Café in Burlington.

"People may not realize we use maple syrup in our chocolates. In fact, we use approximately 36 gallons a year," said Gary Coffey, Director of Retail. "This event gives participants a chance to discover how the unique taste of Vermont's syrup gives our chocolates a distinctive and delicious flavor."

As a natural, unrefined sweetener, not to mention a true Vermont product, maple syrup is the perfect complement to LCC's fresh, all-natural chocolates. Maple products include: Maple Crunch, a butter crunch made with maple syrup and covered in dark chocolate, Five Star Granola Bar, a granola infused with maple syrup, blended with almond praline and covered in dark chocolate, Maple Pecan Ice Cream, Maple Walnut Fudge and Maple Lattes and Shakes! All chocolates made with maple syrup will be on sale, as well as bottles of maple syrup.

The Maple Syrup celebration coincides with LCC's annual Mud Season sale with chocolates on sale throughout the store, from 20-50% off.

The LCC Factory Store & Café offers chocolates, confections, hot chocolates, cappuccinos, lattes, ice cream, gourmet coffee and teas, cold beverages, and many factory seconds.