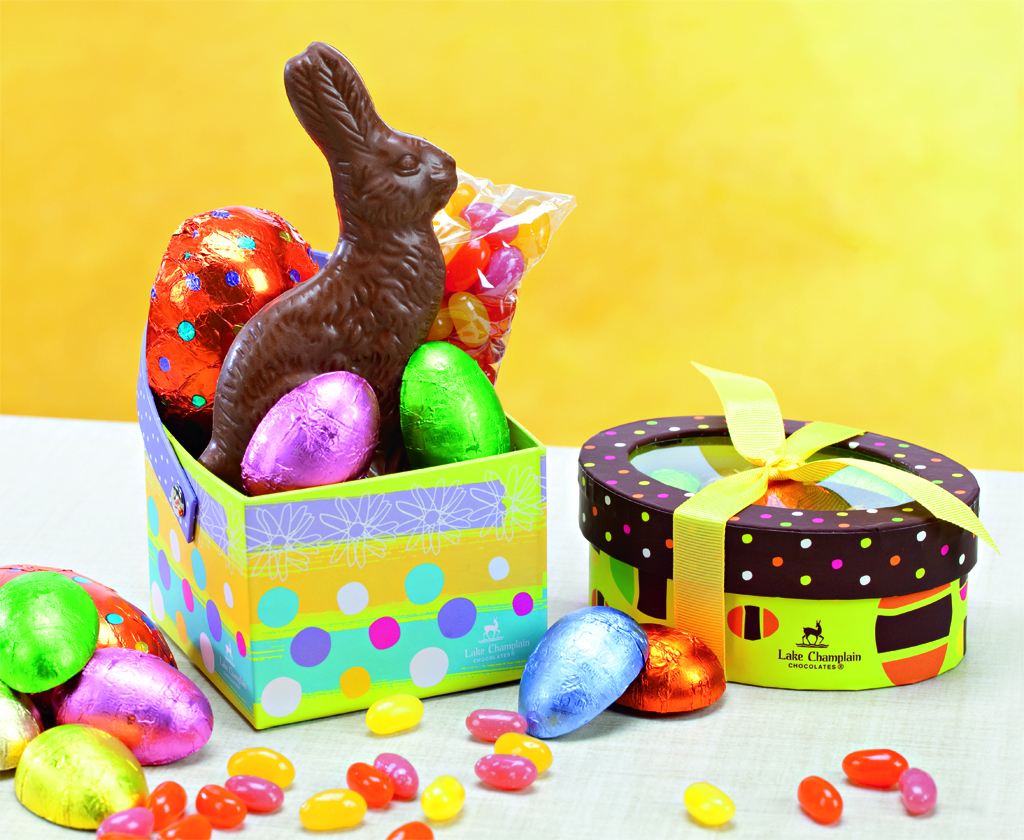 With Easter a little less than four months away, Lake Champlain Chocolates (LCC) is gearing up to help the Easter Bunny prepare for his big day. In addition to customer favorites like chocolate bunnies and cream-filled eggs, the Vermont chocolate company is introducing three new products to add to the Bunny's collection of treats.

This year's new products include:
Organic Chocolate Hopp'n Bunny: Available in organic milk or dark chocolate, these handmade chocolate bunnies are wrapped in compostable cellophane bags and finished with a festive ribbon woven from yarn made with recycled bottles. These bunnies are the ultimate treat for those looking to celebrate Easter while also paying tribute to Earth Day, which happen to fall in the same week this year.
Bunny Hop Basket: Busy parents and grandparents will love the convenience of these ready-to-give baskets that feature a handmade chocolate bunny, a variety of filled eggs and all-natural jelly beans.
Organic Squares Dispenser: Perfect for filling multiple Easter baskets, these dispensers of 140 Milk Organic Squares, Dark Organic Squares, Milk Sea Salt & Almonds Organic Squares or Dark Spicy Aztec Organic Squares are sure to make the Easter Bunny's job a little easier this year.

"Since chocolate is traditionally what the Easter Bunny brings, we wanted to expand the available selection to provide organic, healthy options to tuck away in Easter baskets," said Allyson Myers, Director of Sales and Marketing for LCC. "And with Easter and Earth Day being so close together this year, we took it as a timely opportunity to create an eco-friendly package to encourage consumers to have a green celebration."

Other best-selling Easter products include: LCC's Classic Bunnies, available in dark, milk or white chocolate and in two different sizes; the 14-piece Egg Gift Bag with peanut butter, caramel or raspberry cream-filled chocolate eggs; and the foiled milk chocolate Carrot. For those looking for a wholesome treat, LCC's Breakfast Eggs will satisfy tastebuds and bellies alike. The Granola Breakfast Egg is filled with almonds, oats, cranberries and dark chocolate, while the Peanut Butter Breakfast Egg is a combination of creamy peanut butter, crunchy peanuts and crispy rice. The Selection Boxes feature LCC's most popular chocolates and have a fresh, spring package that also doubles as a thoughtful Mother's Day or Administrative Professionals Day gift.

These products will be for sale at all three LCC retail locations, online at www.LakeChamplainChocolates.com and at select gourmet retail locations across the country.