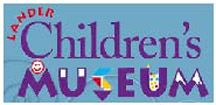 The Lander Children's Museum with it's strategic partner, Adventures in Learning are excited to share TWO exciting and fun events next Saturday, April 30th!

Nurture Nature:
Arbor Day Celebration at the Lander Children's Museum
465 Lincoln Ave., 332-1341

Saturday, April 30, 10:00 - 3:00
Recycling, Trees, Birds and Bugs, Gardening, and Worms!
Admission: $3.00 per person, members free!

AND

Fun with Farmer Fred!

Join the Lander Children's Museum and Adventures in Learning for a fun, hands-on inquiry, and place-based learning experience. The two main themes of the program are 1) sustainable gardening/growing and 2) stream ecology and water quality.
The morning session of the program includes soil basics, how to develop healthy organic soils, seed characteristics and germination requirements, and transplanting seedlings to the garden. The afternoon stream ecology and water quality experience includes an invertebrate dip net activity and analysis and identification of the invertebrates, the characteristics of a watershed and environmental consequences of man made modifications to it, and the physical characteristics of a stream.

Who: elementary students K-6 (kindergarteners should be accompanied by an adult)
When: April 30th, 8am to 3pm
Where: At the farm of Fred Groenke, 2232 N. 2nd Street

Registration: Tuition is $25 per participant. Contact the Lander Children's Museum to register. Scholarships available.