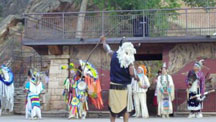 Everyone is invited to attend the Gift of the Waters Historic Indian Pageant the first weekend in August at Hot Springs State Park, Thermopolis.

The "Gift of the Waters" is a historic Indian pageant held the first weekend in August every year. Singing, dancingm, The Lord's Prayer in Native sign language, and a moving scene where an archer sends an arrow to the heavens make up this memorable ceremony. In 1897 Shoshone Chief Washakie entered into an agreement with the U.S. Government to sell a 10-mile square of land surrounding the Big Horn Hot Springs (now known as the "Big Spring"). This is not a reenactment but a pageant written by Marie Montabe, based on this event: a beautiful celebration of music, dance and camaraderie between two nations. Admission is free.

Other weekend activities include a parade, craft fair, 5 & 10K run, swimming and soaking in the park pools and bath house. Visit the website www.giftofthewaters.com

Hot Springs State Park: Home of the "World's Largest Hot Springs"