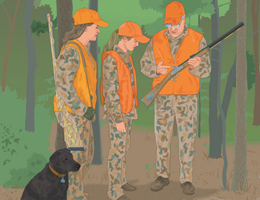 The Wyoming Game & Fish Department (WGFD) will be holding a hunter education class in Shoshoni, WY on August 20 and 21 at the fire station.

Class hours for the 15-hour traditional class are 8:30am to 5:00pm both days. Pre-registration is required via the WGFD website http://gf.state.wy.us

To enroll in the class, click on Education tab. Next, click on the Hunter Education Home Page, and then on the Hunter Education Schedule. The class is limited to 30 students and registration is on a first come, first serve basis. A half hour lunch is scheduled for each day and students should bring food and a beverage. Expect to dress for weather conditions.

The cost of the class is $10 per student. Students are required to take notes and should bring a pencil with them. A firearm handling field test and a written test will be administered for certification. Students who fail either test may retake the course as many times as needed. There will be no live fire with this class and firearms will be provided by the WGFD.

Wyoming law mandates the requirement for hunter education certfication. Under the provisions of Section 23-2-106(a) of Wyoming statutes, "no person born on or after January 1, 1966, may apply for and receive any Wyoming hunting license, nor take any wildlife by the use of firearms on land other than that of his own family, unless the person possesses and can exhibit a certificate of competency and safety in the use and handling of firearms."

For more information, contact WGFD Information and Education Specialist Lucy Wold at 307-875-3225, extension 224.