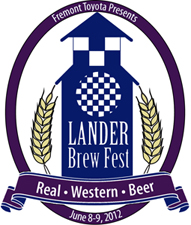 Lander Brew Fest is quickly approaching!! The excitement is growing! Over 20 brewers will be attending! Four hot bands will play throughout both days! So what are you waiting for?! Buy your tickets today! Go to
http://www.landerbrewfest.com
and buy your tickets on-line, come into the Lander Chamber of Commerce office, 160 N. 1st St., or if you don't mind waiting in line you can get yours at the gate.
Friday, June 8, 5-9 p.m., adults only, The Foot and Musketeer Gripweed will entertain, there will be wine tasting (included in your admission) and whiskey tasting (4 tokens for $10)
Saturday, June 9, 2-7 p.m. the Codi Jordan Band and Fluffy Buffalo will perform. Lots of great food to keep up your energy both days! Wind River Rugby Challenge starts at 12:30. Car and bike show both days!
So what are you waiting for? Get your tickets today!