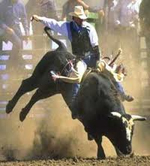 Plan to attend the "Oldest Paid Rodeo in the World!", the 2012 Pioneer Days Rodeo, Tuesday and Wednesday, July 3 and 4, 6:30 p.m. both nights. The Lander Rural Fire Department will put on the Lander City Fireworks following the rodeo at 10 p.m.

COWBOYS AND COWGIRLS: ENTRY JUNE 23, noon-5 p.m., call (307) 349-1981 or (307 332-6680. All-Around Buckle donated by Ameri-Tech of Lander. WRA Approved! Only 10-12 entries per category will be allowed in the performance, all others will be in slack as drawn. Slack is July 3, 9:30 p.m. (time is approximate).

Pre-sale tickets available at Western Supply, Lander Chamber of Commerce, 160 N. 1st St., Lander's Mill, Lander Parks & Rec @ City Park, First Interstate Bank of Lander, Lander Main Street Car Wash, Linton's Big R, Riverton Chamber of Commerce, Lander Ace Hardware. Save money and have a chance to win $50 each night! Pre-sale tickets Adult $7, kids (6-12) $3. At the gate Adult $8, kids (6-12) $4. For more information call (307) 349-1981 or (307) 332-6680.

Indian Relays each night. July 3 is Little Cowpokes Night, Calf Scramble & foot races. Events include Bull riding, saddle bronc, bareback, ladies barrels, calf roping, ladies breakaway, steer wrestling, open team roping and a Wild Horse Race! Don't miss the fun!