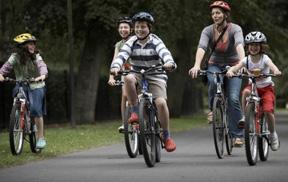 Please join the Lander Cycling Club, City of Lander and Lander Police Department in
this nationwide, awareness-raising ride.
Ride of Silence: We are riding today to honor fallen cyclists, to promote road safety and to make a difference. Let the Silence Roar!
* Wed, May 16 at 6:30 pm starting and finishing at Jaycee Park (Red Caboose), 160 N. 1st St., Lander
* Slow-paced, safety-oriented ride about town geared toward families and friends to raise awareness of cycling safety and to honor those injured while cycling.
* All are welcome (helmets please)
* www.rideofsilence.org

Gannett Peak Sports
351-B Main St.
Lander, WY 82520
(307) 332.2926
Safe Cycling Tips
1. Be seen: wear colorful clothing & reflective gear
2. Go with the flow: always ride in the direction of traffic
3. Follow the rules: obey stop signs and traffic signals
4. Be considerate: ride single-file in traffic
5. Do what cars do: use turn signals and turning lanes