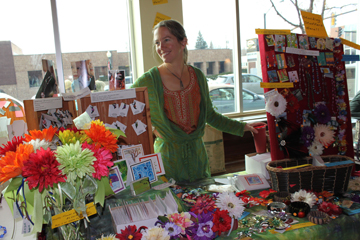 The Lander Art Center Annual Art in the Afternoon Holiday Art Fair is scheduled for Sunday, December 4th from 10 am to 4 pm. A special members' preview will take place from 9 am to 10 am. If you aren't already a Lander Art Center member, sign up now to beat the rush!
A $2 entry donation will be requested at the door. Proceeds will go to the Lander Art Center.
The Lander Bar will sell drinks, including mimosas, bloody marys, and non-alcoholic drinks.
Apple Valley market will be selling soup for lunch.
The Lander Valley High School Choir will sing holiday carols throughout the day.
Participating artists for Art in the Afternoon 2011 are:
Anna Hulme: wool felted humans and creatures
Annie Reber: traveling massage/bodywork
Ashley Reeves and Allison Jackson: handcrafted cards and calendars
Audrey Eaton: classic jewelry made from natural stones and cultured pearls
Bill Yankee: intaglio printmaking
Byron Seeley: multi colored textured clay work
Chris Hulme: hand-blown glass ornaments and pendants
Cristin Zimmer: decorative ceramic platters and small encaustic paintings
Dannine Donaho: miniature watercolor and pen and ink drawings
Deanna Trumble: hand-made soap
Deb Britt: Wheel and hand-built pottery using various forms of firing and glazing techniques
DeClue jewelry and Design by Theresa DeClue: natural stone, beads, and wire jewelry and mittens from re-purposed sweaters
Diantha States: woven rugs, placemats, stuffed animals and more using natural fibers and recycled trimmings
Doug and Sandy Lowinske: handcrafted woodwork made from native aspen
Ely Miller: Tye dye

Jagoe Reid: hand-dyed crepe de chine (silk) scarves and colorful hand-made hula hoops
Jennifer Schiefen: beaded jewelry
Joanne Rubino: prints
Kenneth Reiman: stoneware and porcelain clay work
Lander Valley High School Art Club: soup bowls and lino-cut holiday cards
Lander Valley High School Ski Team: painted ski boot planters
Lennie Poitras: handmade fine silver and sterling silver jewelry with a botanical theme
Linda Johnson: watercolor paintings
Lori Hunter: children's clothing, accessories, and mixed media children's room décor
Lucille Kara: marbleized paper
Mary Johnson: hand-made soaps packaged in colorful cotton bags, natural jewelry made from local rocks, semi-precious stones, recycled pottery and glass
Matlynn Snodgrass and Andalusia Reed: origami crane mobiles, hand-made journals, and recycled wool hats
Mountain Aven Baby by Blair Stone Schneider: high quality, unique, handmade children's clothing and women's accessories
Pam Spencer-Hockett: clay work
Rebecca Steinke: fine silver, gold, and beaded jewelry
Sali Allard: wildlife to sunsets depicted in acrylic, watercolor and pastel
Scott Copeland: photography
Shawna Pickinpaugh: stoneware pottery and recycled wool mittens
Sherry Shelley: hand-made sagebrush wreaths
Shining Mountain Mercantile by Sarah Susanka: crocheted and knitted afgans, blankets, hats, and more using wool, cotton, and specialty yarns
Stacy Wells: hairclips, kids belts, watercolor cards and wire-wrapped earrings
Stefanie Tonsberg: handmade stuff animals, horn drawer knobs, wool stockings, and ornaments
Susan Grinels: mixed media paintings, drawings, and collages
Teri Miller: recycled tire mirrors
Tonya Pepper: mixed media hand- made greeting cards
Wanderlust Jewelry by Elana Cox: AA-AAA semi-precious stone jewelry using sterling and fine silver hand-forged findings
Zach Even: local wildlife watercolors and oils painted with humor and printed t-shirts