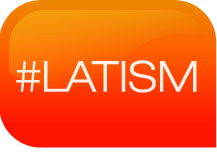 WASHINGTON, DC – November 8, 2011 –Latinos in Social Media (LATISM), the largest organization of Latinos engaged in social media, today announced the final program for the LATISM '11 Conference and three powerful keynotes. This multi-platform, multi-discipline, fully bilingual conference will take place from November 9-11, 2011 at the Navy Pier in Chicago, IL.
The keynotes include Dolores Huerta, the legendary activist of Labor Movement's fame, Ramon de Leon, an expert in social media business, Mary Anne Müller, a non-profit expert and Tony Melendez, a great musician and life expert. The final agenda includes engaging dialogues, and live chat with some of today's top leaders who will explore the role and usage of digital media in the areas of Latino health, education, economic development, civic engagement at the community and personal levels. Hundreds of LATISM members, the leading Latino influentials and thought-leaders, are expected to attend the sold-out conference. The event's sessions and workshops that will also be made available live and on-demand to thousands of Latinos via livestream.com.
"Adopting digital media has become a critical element for individuals and companies trying to maintain a competitive advantage in today's environment," said Elianne Ramos, Vice-Chair of Communications and PR for LATISM. "We are using every available tool to promote the use of digital technology as an instrument that facilitates new opportunities for awareness, action and inclusion on and offline. I look forward to witnessing how our LATISM community embrace this opportunity to address the complex challenges faced by our community."
Conference Highlights
A unique, fully-bilingual format complete with live Spanish/English interpreters and translation devices
Over 100 speakers from virtually every industry
24 panels on the most pressing Latino issues: Health, Education, Civic Engagement, Business and Technology
20 hands-on Workshops providing tools and techniques for Bloggers, entrepreneurs, and more
The official launch of the LATISM magazine
A leadership Summit for all the LATISM Chapter Directors
Keynote and Session Highlights
A TownHall with the White House Initiative on Educational Excellence for Hispanics led by Jose Rico, Deputy Director, White House Initiative on Educational Excellence for Hispanics
A keynote by Dolores Huerta, co-founder and First Vice President Emeritus of the United Farm Workers of America, AFL-CIO (UFW)
Keynotes by Ramon de Leon, Mary Anne Müller and Tony Melendez
LATISM Awards Dinner Gala – An evening of entertainment, celebration and recognition of the best of the best in social media
An interactive session with Macon Phillips,

White House Director of New Media
"We are very proud to have put together a top-notch agenda as well as first-hand access and interaction with the organizations who are leading innovation in the social media space," said Ana Roca-Castro, Founder and Chair of LATISM. "Throughout the event, our partners, speakers and community members will engage in compelling discussions and presentations. LATISM '11 will definitely set the bar for the initiatives we will be putting in place in the coming year."
The sold-out event will provide attendees a platform to access the insights and best practices in social media, as well as first-hand access and interaction with innovative organizations and companies.
LATISM '11 Sponsors include Johnson and Johnson, Toyota, Univision Networks, Google, PBS, Sears, McDonalds, Nintendo, Cricket, The Hispanic Technology and Telecommunications Partnership (HTTP), Edelman, Impacto Latin News, Amway and Hoy Newspaper.
LATISM Conference Partners include PR Newswire, BlogWorld, Paco Communications, Ford Motor Company, Gozamos Magazine, Latina Style Magazine, National Hispana Leadership Institute (NHLI), BlogHer, My Habanero, Latino Scoop, Extra Newspaper, Arte y Vida Chicago, Clique, Extra Newspaper, New Futuro, De La Croix Communications and Rationation.
To view the final agenda, go to: http://conference.latism.org/conference-info/conference-agenda/
To learn more about the conference, visit: http://conference.latism.org
Join the conversation about the LATISM 11 Conference by following #LATISM and #LATISM11 on Twitter
To view the latest version of the speaker lineup for the LATISM '11 Conference, please visit: http://conference.latism.org/conference-info/speakers/
To connect with LATISM on our different social media properties, please scan the QR code above.
ABOUT LATISM
Latinos in Social Media (LATISM) is a 501(c) 4 nonprofit, nonpartisan organization dedicated to advancing the social, civic and economic status of the Latino community. LATISM also helps to raise awareness among corporate brands, NGOs and government entities about using social media to reach Latinos. Our partnership initatives include research, event sponsorships, and leadership training. A pioneering social media organization with over 140,000 members in its network, LATISM has been hailed as the most influential online movement in the new multicultural Web. To learn more about the Latinos in Social Media (LATISM) organization, visit http://latism.org
ABOUT THE LATISM '11 CONFERENCE
The LATISM '11 Conference is LATISM's centerpiece, fully bilingual event of the year. This national event will consolidate LATISM's mission and audience of health providers, government officials, educators, community members and thought leaders. Since 2009, the Latinos in Social Media (LATISM) events have taken place in cities all around the United States, including New York, Orlando, Washington, DC, Los Angeles, CA and Silicon Valley, featuring more than 400 speakers to date. Participants have included over 5,000 in-person attendees, with thousands more engaging via social media.