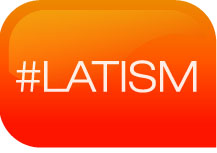 Media Contact:
Elianne Ramos (@ergeekgoddess)
Vice Chair, Communicatios and PR, Latinos in Social Media (LATISM)
646-932-7752 • elianne@latism.org
WASHINGTON, DC, November 15, 2011– Latinos in Social Media (LATISM) today announced the winners of its annual LATISM Awards. The Awards recognize the top bloggers, individuals and organizations in the LATISM community, who have demonstrated outstanding use of blogging and social media management for Latino Outreach. Winners were honored at an Awards Ceremony sponsored by The Toyota Motor Company, on Thursday, November 10, 2011 during the LATISM 11 National Conference.
"The LATISM Awards are a wonderful tribute to the many amazing bloggers, community leaders, businesses and organizations who contribute to our thriving community online, by making the best use of today's available technologies. It is a testament to their influence and engagement in our community that their peers chose them among thousands of nominees," says Ana Roca-Castro, LATISM's Founder and Chair.
From over 650,000 nominations submitted online by the community, the top three nominated in every category were named finalists and underwent a second round of online voting. Winners were selected by their peers in an subsequent online vote. The winners are the individuals and organizations who received the highest amount of online votes from the community between October 12 and October 30th, 2011.
The official list of Award Winners, by category, follows:
Jeannette Kaplun – www.blogsdemamas.com/ (@JeannetteKaplun)
Monique Fausto: http://www.clicklatina.com/ (@ClickLatina)
Alberto Saldamando – http://elmundotech.wordpress.com/ (@ElMundoTech)
Best Latin@ Business Blogger
Murray Mann – http://bit.ly/LatinosAtWorkBlog (@LatinosAtWork)
Best Latin@ Bilingual Blogger
Silvia Martinez – www.mamalatinatips.com (@MamaLatina)
Best Latin@ Health Blogger
Laurita Tellado – www.holdingoutforahero.com (@Laurita86)
Best Latin@ Education Blogger
Monica Olivera – www.MommyMaestra.com (@MommyMaestra)
Best Latin@ Political Blogger
Viviana Hurtado http://thewiselatinaclub.com/ (@VivianaHurtado)
Best Latin@ Sports Blogger
Julio Pabon http://latinosports.com/ (@LatinoSports143)
Best Latin@ Activist Blogger
Elisa Batista – www.MotherTalkers.com (@MotherTalkers)
Best Latin@ Inspirational Blogger
Blanca Stella www.micaminar.com (@MiCaminar)
Maura Hernandez – http://theothersideofthetortilla.com (@MauraHernandez)
Best Latin@ Micro-Blogger
Ramón De León (@Ramon_DeLeon)
Dan Pérez – www.southfloridafilmmaker.com/ (@DanPerezFilms)
Angelica Perez – www.NewLatina.net (@NewLatina)
Best Latin@ Social Network (tie)
Leader Rebecca Aguilar – www.wiselatinaslinked.blogspot.com/
Ana Flores – www.latinabloggersconnect.com
Best Marketing/PR Firm using Social Media to reach Latino(a)s
Golin Harris www. www.golinharris.com/ (@Golinharris)
Best Hispanic Agency using social media to reach Latino(a)s
Lopez Negrete – www.lopeznegrete.com (@LopezNegrete)
Best Company using Social Media to target Latino(a)s
Sears Holding – Kmart Latina Smart www.facebook.com/Latinasmart (@LatinaSmart)
Best Health Advocate reaching Latino(a)s through Social Media
March of dimes, www.NacerSano.com (@Marchofdimes)
Best Education Advocate helping Latino(a)s through Social Media
White House Initiative on Educational Excellence for Hispanics www.ed.gov/about/inits/list/hispanic-initiative/index.html (@HispanicEd)
Best Non-For-Profit Organization using Social Media to reach Latino(a)s
National Hispana Leadership Institute – NHLI www.nhli.org (@NHLI)
Best Artist using Social Media to reach Latino(a)s –
Fernando Varela – http://fernandovarela.com/ (@FernandoVarela)
Best Politician using Social Media to reach Latino(a)s
Los Angeles Mayor Antonio Villaraigosa – http://mayor.lacity.org (@villaraigosa)
Best Multicultural Social Media Campaign
Univision: "Es el momento" – www.vidayfamilia.univision.com/es-el-momento/ (@Univision)
Best Multicultural Mobile Campaign
Department of Health & Human Services' (HHS) Agency Conozca las preguntas, (Know the Questions) – www.ahrq.gov (@AHRQNews)
Now in its 3rd year, the LATISM Awards is the leading honor recognizing Latino achievement in the use of blogging, outreach, mobile and new media. The high-caliber and diverse scope of the winners reflects how the Internet has become the driving force shaping everything from entertainment to business and the impact the Latinos are having in this arena.
For pictures from the LATISM 11 conference, including the LATISM Awards Gala, please visit our Flickr page: http://www.flickr.com/photos/latism/
To connect with LATISM on its different social media properties, please scan the QR code above.
ABOUT LATISM
Latinos in Social Media (LATISM) is a 501(c) 4 nonprofit, nonpartisan organization dedicated to advancing the social, civic and economic status of the Latino community. LATISM also helps to raise awareness among corporate brands, NGOs and government entities about using social media to reach Latinos. Our partnership initatives include research, event sponsorships, and leadership training. A pioneering social media organization with over 140,000 members in its network, LATISM has been hailed as the most influential online movement in the new multicultural Web. To learn more about the Latinos in Social Media (LATISM) organization, visit http://latism.org.
ABOUT THE LATISM '11 CONFERENCE
The LATISM '11 Conference was LATISM's centerpiece, fully bilingual event of the year. This national event, held in Chicago's Navy Pier from November 9 to November 11, 2011, consolidated LATISM's mission and audience of health providers, government officials, educators, community members and thought leaders. Since 2009, the Latinos in Social Media (LATISM) events have taken place in cities all around the United States, including New York, Orlando, Washington, DC, Los Angeles, CA and Silicon Valley, featuring more than 500 speakers to date. Participants have included over 5,000 in-person attendees, with thousands more engaging via social media and livestream. For more information about the LATISM 11 Conference, including access to the livestream videos from its sessions, visit http://conference.latism.org