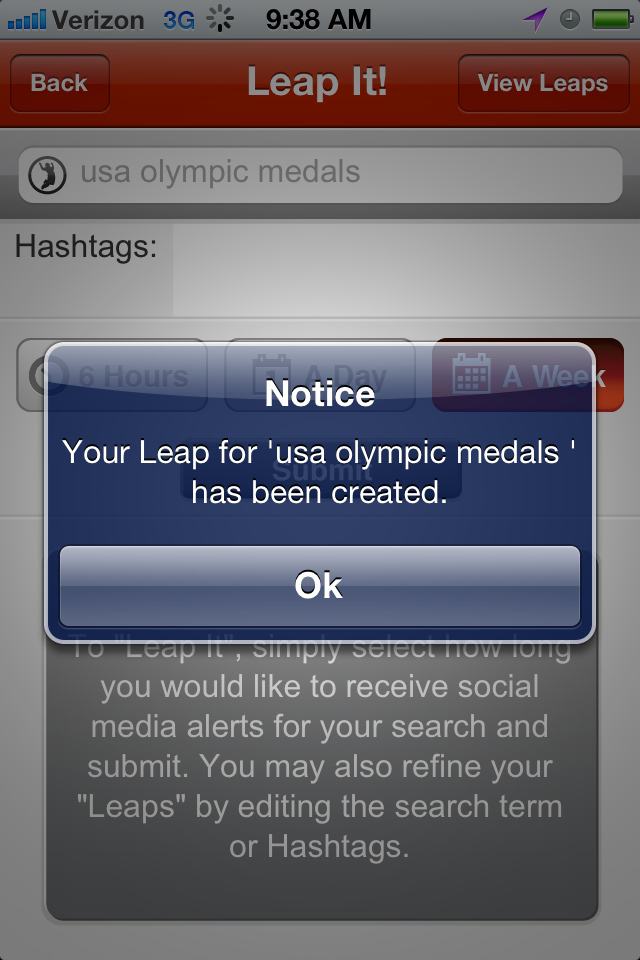 Kansas City, KS
– Until now, mobile search was an afterthought – just desktop search slapped on a smaller screen. Launching today, Leap2 is upending mobile search by creating a platform that leverages new, mobile-specific capabilities including touch navigation, alerts, location, and social media. Plus, Leap2 features the first-ever living search platform.
Designed for the mobile user, Leap2 is a brand new way of thinking about search + social. The vast majority of time, searchers click on one of the top three results links. With Leap2, users skip the long list of search results and go directly to the top websites that deliver the answers they need. Plus, Leap2 offers context from the social web, prioritizing information displayed by time-sensitivity, shared links, information velocity, and social voting (e.g., retweets). Beyond simply incorporating social results from a person's personal network into search listings, Leap2 leverages open social networks to add much-needed context.
"With Leap2, mobile searchers 'leap to' both the web and real-time results from actual people," explained Leap2 founder Mike Farmer. "For the casually curious or information addicts alike, Leap2 accelerates information discovery while delivering real-time context. Leap2 delivers fast, precise answers of the open web with context and serendipity of real-time social results."
Additionally, living search adds a new dimension to mobile search – and delivers constant access to information. For example, many search queries, such as updates from sports teams or healthy recipes, are driven by an ongoing curiosity. A person's interest doesn't end at that precise moment; instead, a sports fan needs to know about athlete injuries, sports scores, drafts and trades as they happen. Curiosity lives on, so searches should live on, too. That's easy with Leap2: Just create a "leap" to receive continuing updates about topics of interest.
Leap2 Key Product Features
Real-time social results: Pulls instant search query results across social networks in real-time
Hashtag Suggest: Delivers relevant hashtags as suggestions to improve search queries
'Search/share' feature: Seamless integration of search phrases and hashtags provide users with an easy way to share their searches via Twitter, email and SMS
Voice-to-web™ capabilities: Feature allows users to get direct-to-web results by asking a question or saying keywords
Robust API integration: Integrates API data from Bing, Yahoo! Local, Foursquare, Yelp and Twitter
Living Search™ platform: New "Leap it" feature allows searches to "live on" and instantly alerts users when new relevant information is published
Mobile interface: Interface is designed and optimized specifically for smartphones to create simple, rich mobile search experiences that leverage the best of the web, social and local information
Leap2 is currently available on iOS and Android phones.
________________

About Leap2:
Leap2 is the first mobile search application to combine search with instant web, local and real-time social results – to deliver faster, more relevant information. Currently available on iOS and Android phones, Leap2 was founded in Kansas City in January 2011, and has received $380,000 in seed funding. The leadership team includes Mike Farmer, founder and CEO and Dan Carroll, co-founder; as well as advisers Thad Langford and Aaron McKee. For more information, visit www.leap2.com.

###