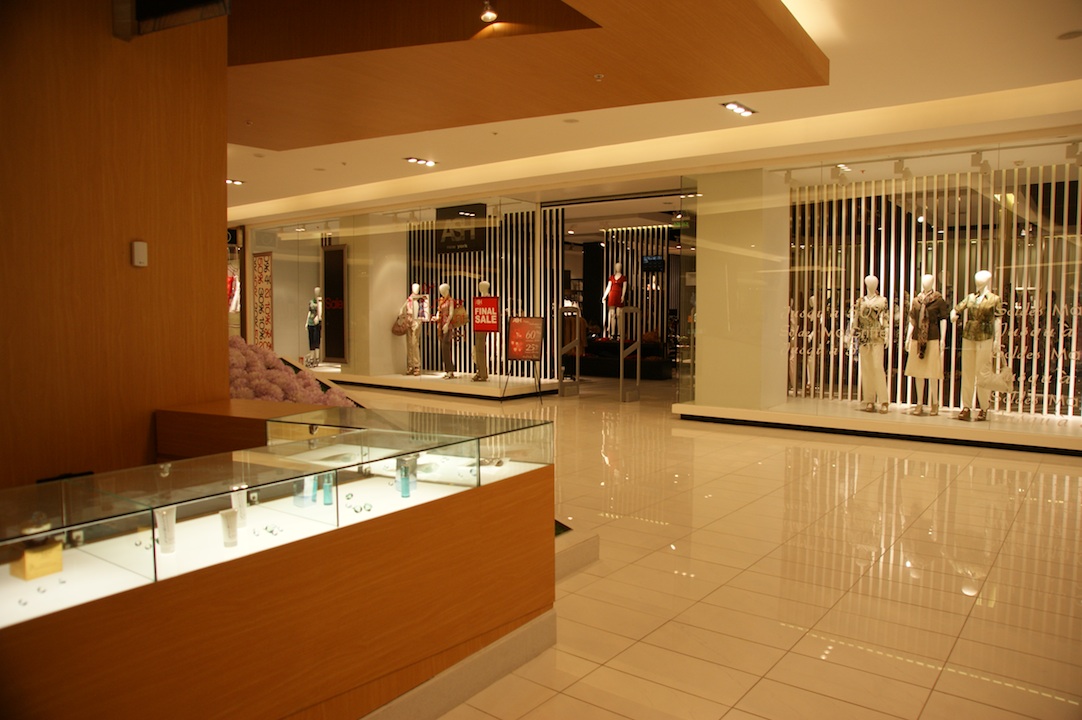 The interior of Mall Plaza Antofagasta, created by tvsdesign.

The interior of Mall Plaza Antofagasta, created by tvsdesign.
Atlanta-based tvsdesign has partnered with long-time client, Mall Plaza, to repurpose the ground level of a parking garage into a 2,000 sm, high-end retail destination in Antofagasta, Chile. The new retail destination is in response to growing global affluent shoppers in the area. The new space, with tenants ranging from Roxy to Umbrale and Saville Row opened in late 2011.
Mall Plaza wanted this new project to be an extension of Aires, an exclusive branded environment created by tvsdesign in 2010 for its upscale clientele. Aires, a resort-like shopping district originally located in Plaza Vespucio, is defined by lush, sculptural landscapes with cascading streams, floating cafes, living rooms and specialty retail woven into a garden setting. Aires offers a relaxing and sophisticated shopping experience that caters to the needs of the more affluent shopper.
The Retail Studio of tvsdesign and Mall Plaza have been strategic partners for over 17 years. With dozens of successful projects completed by tvsdesign, Mall Plaza knew the architecture and interior design firm could transform the dark, single-level, column filled parking garage into an open and inviting fashion district. The challenge to accommodate the client's goals was threefold: how to adapt the Aires brand to fit into such an unusual location, how to bring the outside indoors and how to develop a design language that spoke to high-end shoppers.
The design solution creates floating wood soffits spreading out to form focal points above boutique kiosks and cafes, defining the heart of the space. Water is used as a visual, experiential and auditory design feature to connect the space to the natural environment. Shallow pools surround public seating areas and specialty cantilevered retail. Elegant water walls punctuated with flowers suspended in crystal vases greet the guest at each entrance and set the tone for the distinctive experience inside. Warm wood patterns, relaxing seating groups and a color palette of cool colors and soft tones brands the area as a high-end shopping destination in line with the Aires brand.
"We made a conscious break from the traditional double-loaded corridor of most malls to create a new more intimate shopping destination that connects the shopper both visually and physically to every store." said Donna Childs, principal at tvsdesign.
Chilean-based architecture firm, Luis Villanueva, developed the project construction documents (with peer reviews by tvsdesign). In addition to Antofagasta, tvsdesign is working with Mall Plaza's Egana, an environmentally sensitive mall to be completed in 2013.
About tvsdesign:
tvsdesign is a global design firm whose award-winning solutions reflect more than 40 years of experience in planning, architecture and interior design. With offices in Atlanta, Chicago, Dubai and Shanghai, the firm's passions for design excellence, sustainability and collaboration produce client-driven results. With projects around the globe, tvsdesign is recognized for its work including convention and public assembly, cultural arts, retail, office, education, government, hospitality, workplace, showroom and mixed-use projects. The sustainable design experience of the tvsdesign studios encompasses 23 LEED Certified and 16 LEED registered projects. In 2002, tvsdesign was awarded the prestigious American Institute of Architect Firm Award. www.tvsdesign.com
CONTACT:
Ellen Hartman (678) 399-3335 ehartman@hartmanpr.com
Sarah Busch (312) 777-7425 sbusch@tvsdesign.com
For High Res Images: Marc Hirsch (404) 946-6738 mhirsch@tvsdesign.com