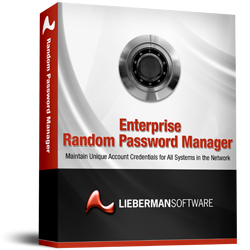 Lieberman Software Corporation, developers of the first fully automated privileged identity management solution, today announced a new partnership with Viewfinity, a leading provider of privileged management and application controls. The alliance integrates Lieberman Software's Enterprise Random Password Manager™ (ERPM) with Viewfinity's Privilege Management to control and audit privileged account and privileged user access to systems, applications and devices throughout the IT infrastructure.

"By combining Lieberman Software's industry-leading privileged identity management solutions with Viewfinity's advanced capabilities for privileged user management, we can eliminate a wide range of security threats related to unmanaged privileged access," said Philip Lieberman, president and CEO of Lieberman Software. "Our mutual customers can benefit from a unified solution that manages and audits both privileged users and accounts."

ERPM from Lieberman Software automatically locates every privileged account in the enterprise, frequently changes each account's password to a unique and complex value, and deploys the password changes wherever they are used in the data center. The solution provides new accountability by showing precisely who on the IT staff had access to sensitive data, at what time and for what stated purpose.

Viewfinity's Privilege Management allows IT administrators to create a "Least Privilege" environment, removing wide-scale administrative rights and enforcing policies to grant elevated permissions on a flexible, granular basis. As a result, Viewfinity enhances corporate security and productivity by allowing users to perform all of their required duties with the least privilege necessary.

Together, these products ensure that powerful privileged account passwords are not disclosed to end-users and are granted only to authorized IT staff for a limited time. Least privilege compliance is enforced by managing permissions for privileged accounts through the elevation of privileges for applications or by reducing permissions for privileged users. A full audit trail of user and administrative access and activity is logged and can be provided to auditors to verify compliance with major regulatory mandates such as PCI-DSS, HIPAA, CAG-8, FISMA and others.

"These combined solutions expand the footprint of IT security by ensuring complete coverage for the crucial areas of PIM and least privilege enforcement," said Gil Rapaport, president and co-founder of Viewfinity. "The customers we serve together will benefit from the most comprehensive and automated solutions available for tracking, auditing and enforcing all privileged and admin-level access. We can elevate or de-elevate privilege policies across the entire infrastructure, including Windows endpoints, servers, virtual machines, cloud/SaaS connections, remote endpoints and any other system within the organization."

About Lieberman Software Corporation
Lieberman Software provides privileged identity management and security management solutions to more than 1000 customers worldwide, including 40 percent of the Fortune 50. By automatically discovering and managing privileged accounts everywhere on the network, Lieberman Software helps secure access to sensitive systems and data, thereby reducing internal and external security vulnerabilities, improving IT productivity and helping ensure regulatory compliance. The company developed the first solution for the privileged identity management space, and its products continue to lead this market in features and functionality. Lieberman Software is headquartered in Los Angeles, CA with an office in Austin, TX and channel partners throughout the world. For more information, visit www.liebsoft.com.

About Viewfinity
Viewfinity provides privilege management and application control for desktops, laptops and servers, empowering enterprises to meet compliance mandates, reduce security risks, and lower IT costs. The Viewfinity solution allows enterprises to control end user and privileged user rights for applications and systems which require elevated permissions. Viewfinity's granular-level control enables companies to establish and enforce consistent policies for least privilege Windows-based environments based on segregation of duties.

###

Product and company names herein may be trademarks of their registered owners.