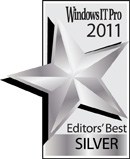 Lieberman Software Corporation's flagship privileged identity management product, Enterprise Random Password Manager™ (ERPM), won the 2011 silver award for Editors' Best Security Product from Penton Media's Windows IT Pro.
"We're pleased that the editorial staff of such a respected information technology publication recognizes the value of Enterprise Random Password Manager," said Philip Lieberman, president of Lieberman Software. "This award from Windows IT Pro affirms what our enterprise customers already know ­- for comprehensive security and management of privileged accounts, Enterprise Random Password Manager is the solution of choice."
ERPM automatically locates privileged accounts throughout the enterprise, frequently changes each account's password to a unique and complex value, and deploys the password changes wherever they are used in the data center. The solution helps control access to an organization's most sensitive data by fully auditing administrative access to systems and applications in the IT infrastructure. ERPM provides the accountability of showing precisely who on the IT staff had access to sensitive data, at what time and for what stated purpose.
The 2011 Editors' Best Awards are based on a product's strategic importance to the market, its competitive advantages, and its value to customers.
"Our Editors' Best Awards let us leverage our contributing editors' expertise to provide well-earned recognition to products that exceed industry standards," said Jason Bovberg, senior editor, Windows IT Pro. "As we did last year, we've also added valuable, in-the-trenches insight from our reader community about the winning products. We're proud to now share this invaluable information with our Windows IT Pro and SQL Server Magazine communities. Our winners should be extremely proud of this recognition from our editorial experts."
About Windows IT Pro
The Windows IT Pro community is the heartbeat of the Windows IT world—a gathering of people, content and resources focused on Microsoft Windows technologies and applications. It's a "community" in every sense, bringing an independent, uncensored voice to IT managers, network and systems administrators, developers, systems analysts, CIOs, CTOs, and other technologists at companies worldwide. Visit www.windowsitpro.com today to learn more.