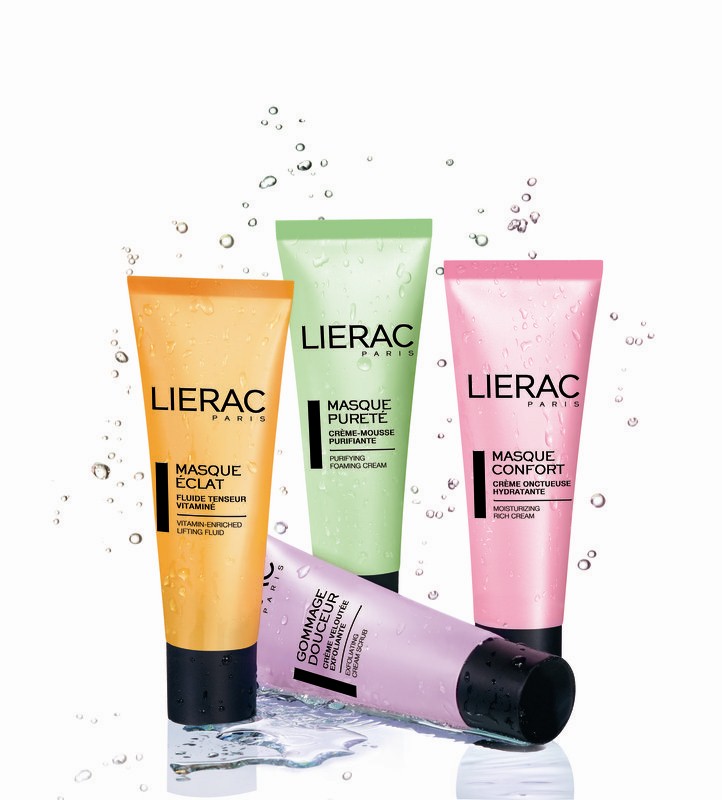 New York, NY (March 2012) – LIERAC Paris introduces a new exfoliator and three new masks to its basics range. LIERAC Laboratories have chosen clay, a mineral that has been used for thousands of years for its effective properties. Clay is a natural powder that is extremely rich in mineral salts and trace elements; it consists of very fine particles of matter that result from the breakdown of silicate rock by erosion or thermal variations.
Clay exists in different colors, each having its own specific properties.
White clay softens and soothes.
Green clay absorbs and purifies.
Pink clay softens and nourishes.
Yellow clay detoxifies and tones.
LIERAC Laboratories have combined the purest clays with pleasing textures to create four paraben-free skin care products that are essential beauty rituals: an exfoliator and three masks, depending on momentary skin desires and needs.
NEW EXFOLIATOR & THREE MASKS:
Gentle exfoliator- Exfoliating cream scrub softens and soothes skin with white clay. The formula is enriched with soothing mallow extract, detoxifying linseed flower extract and exfoliating particles and massage beads. Its vaporous rice notes delicately powdered with white musk and peony soothe the skin. Ideal for all skin types. ($24)
Purifying mask- Absorbing and purifying green clay delivers an instant sensation of purity to combination and oily skin. It helps mattify the skin and tighten the appearance of pores. Its formula is enriched with astringent lime, anti-bacterial and anti-inflammatory star anise extract and absorbent kaolin. This lightweight cream combines jasmine bouquet with fresh green notes. ($28)
Comfort mask- Skin-softening and moisturizing pink clay and rose extract deliver an instant sensation of comfort to skin. The formula is enriched with antioxidant and nourishing cherry flower extracts, shea butter and mango and apricot oils deliver extra comfort. Infused with sensuous scents of rose, magnolia and ylang-ylang. Ideal for all skin types. ($28)
Radiance mask- Detoxifying and toning yellow clay delivers an instant radiance boost to skin. Its formula is enriched with hydrating and anti-wrinkle poppy extract, energizing, detoxifying and radiance-revealing blood orange extract and skin smoothing wheat proteins. Wrinkle-concealing soft focus pigments helps lift the skin and diminish signs of fatigue. This slightly pearly orange-tinted gel-cream texture delivers fresh citrus notes. ($28)
LIERAC Paris exfoliator and masks deliver results and what is more, a moment of relaxation and absolute wellness is guaranteed.
LIERAC CLEANSERS will be available MARCH 2012 through select physicians and in SkinFitness Centers at select Duane Reade locations. 1-877-5-LIERAC www.lierac-usa.com Available in European Skincare Centers at select CVS/pharmacy locations MAY 2012
ABOUT LIERAC PARIS
Lierac Paris is manufactured and distributed by Alès Group, USA, a subsidiary of Alès Groupe, headquartered in Bezons, France. Founded by Dr. Cariel, a French physician specializing in corrective cosmetic medicine, Lierac Laboratories have been pioneers in skin repair and correction-oriented phyto-cosmetics since 1975. All Lierac Paris products are formulated to deliver effectiveness, safety and pleasure of use. Incorporating leading-edge technologies, Lierac Paris products derive their effectiveness from the field of phyto-therapy, using the most active resources of plants combined with the latest innovations in biotechnology. For more information or to find a local retailer, visit www.lierac-usa.com www.twitter.com/lieracskincare
###