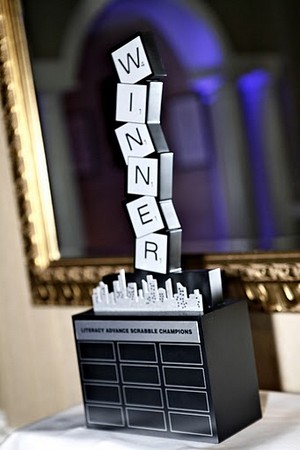 WHO:
Literacy Advance of Houston and the 2012 Scrabble and the City Host Committee including Beth Bryant, Judy & Larry Dierker, Christina & John Dyer, Ellen & Drew Elam, Annie Foley, Steve Ginsburgh, Jackie Hugele, Carey Kirkpatrick, Tanya Kostetsky, Rody Kuchar, Sarah Leonard, Linsay & Jeremy Radcliffe, Sarah & Jonathan Rhoads, Rosario Spinoso, Libbi Smith, Kathy Stockton, Lisa Walsh, and Ellis Wyms welcome you to the kick-off for their September fundraiser. Sponsors to date include, CenterPoint Energy, CultureMap Houston, Judy & Larry Dierker, Irene & Currie Evans, Houston Community College, LyondellBasell, Marathon Oil, Salient Partners, Andrea Shiloh, Garland Shiloh, Universal Weather & Aviation Inc. and Zonta International will also be in attendance.
WHAT:
Kick-off VIP reception for Scrabble and the City, an exciting fundraiser for Literacy Advance of Houston.
WHERE:
V21 Shot Bar & Grill, 5317 B Washington Avenue, Houston, TX 77007. Free parking/Business Attire
WHEN:
Wednesday, May 16 from 6 to 7:30 p.m.
CONTACT:
Susan Schmaeling, susan@saspr.com or 713-349-0780
ABOUT:
Literacy Advance of Houston transforms lives and communities through the doorway of literacy.
On September 13 from 7 to 10 p.m., teams of scrabble players will gather at Saint Arnold Brewing Company where guests will drink, dine, dance and score in an exciting and one-of-a-kind SCRABBLE competition, prizes included. SCRABBLE and the City 2012 is not your grandmother's SCRABBLE! All proceeds benefit Literacy Advance of Houston. Click here for more information about Scrabble and the City 2012.