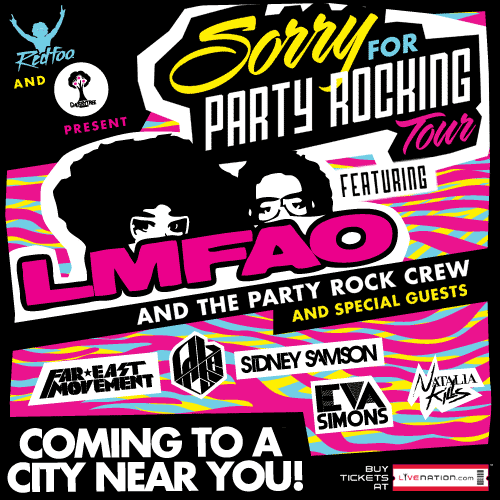 Redfoo and Cherrytree Present: Sorry for Party Rocking Tour Featuring LMFAO and the Party Rock Crew and Special Guests

Redfoo and Cherrytree Present: Sorry for Party Rocking Tour Featuring LMFAO and the Party Rock Crew and Special Guests
They shared the stage with Madonna at the Bridgestone Super Bowl halftime show, now LMFAO is ready to take their party rock anthems on the road as Redfoo and Cherrytree Present: Sorry for Party Rocking Tour Featuring LMFAO and the Party Rock Crew and Special Guests Far East Movement, The Quest Crew, Sidney Samson, Eva Simons and Natalia Kills. The Live Nation promoted tour kicks off May 22nd in Columbus, OH at Nationwide Arena. Tickets go on sale beginning March 2nd at Ticketmaster.com and Livenation.com. A complete itinerary follows this release.
Beginning on Thursday, March 1st, fans that visit www.livenation.com/lmfao and RSVP to the presale will have early access to tickets. Citi cardmembers will have access to presale tickets beginning Wednesday, February 29th at 10am local time through Citi's Private Pass Program. For complete presale details visit www.citiprivatepass.com. Citi is the official credit card of the Redfoo and Cherrytree Present: Sorry for Party Rocking Tour Featuring LMFAO and the Party Rock Crew and Special Guests.
Special guests, electro-hip hop quartet Far East Movement will be bringing their 'Dirty Bass' sound, performing their big hits "Like A G6," "Rocketeer," "Jello" and new club & radio anthem "Live My Life." Before becoming MTV's America's Best Dance Crew, Season 3, Quest Crew's energy and charisma captured the attention of audiences with their numerous crew and individual performances on American Idol and So You Think You Can Dance?. Members of Quest Crew have been featured in LMFAO's videos and television performances. Sidney Samson started DJ-ing in 1995 when he was just 14. A remixer and producer Samson has been keeping dance floors packed ever since. Noted in Billboard's May 2011 issue as "One To Watch", Dutch born & bred Eva Simons is ready to take the electro-dance world by storm with a brand new album this year. Having previously collaborated with LMFAO, will.i.am & Chris Brown, Eva gained much acclaim recently with the massive hit she co-wrote and featured with DJ Afrojack called "Take Over Control". The single topped iTunes dance charts globally, selling almost a million in the U.S alone so far, and becoming an anthem that has crossed over into mainstream radio worldwide. Born in Bradford to a Jamaican father and Uruguayan mother, Natalia creates razor-edged pop. Her debut album, Perfectionist, debuted #1 on the US Billboard Heatseekers Chart, and she has toured with Katy Perry, Black Eyed Peas, Ke$ha, Robyn, and Kelis. She is also featured on LMFAO's hit track "Champagne Showers."
LMFAO's sophomore album Sorry For Party Rocking (Party Rock/will.i.am/ Cherrytree/Interscope) was recently certified gold and quickly approaching platinum. The album has produced two #1 singles, "Party Rock Anthem" and "Sexy And I Know It," while the third single "Sorry For Party Rocking" is climbing the Top 40 radio charts. The video for "Sorry For Party Rocking" premiered on E! last week and already has over 9 million views on VEVO. The video features LMFAO and the party rock crew in full on house party mode.
LMFAO has performed on numerous television shows including Dancing with the Stars, So You Think You Can Dance, The Tonight Show with Jay Leno, Good Morning America, The American Music Awards and Dick Clark's New Year's Rockin' Eve with Ryan Seacrest. The duo recently appeared in national commercials for Budweiser including a Bud Light commercial that aired right before the Bridgestone Super Bowl Halftime show with LMFAO in route to join Madonna on stage but instead ending up at Dale's Halftime bar.
LMFAO's "Party Rock Anthem" has surpassed 10 million units in total sales worldwide! "Party Rock Anthem" was the #2 top selling song of 2011 on iTunes in the U.S. behind Adele's "Rolling In The Deep" and it was the #1 selling song on iTunes in the UK, Canada, New Zealand, Australia, Denmark, Norway, Finland and Sweden. The video has seen over 360 million views on VEVO and was featured by KIA in their award winning KIA Hamster advertising campaign. LMFAO's music has been licensed by movie and television shows, including 20th Century Fox's holiday hit "Chipwrecked," Fox's TV hit "Glee" and the top charting game "Just Dance 3."
Below is a complete list of dates for Redfoo and Cherrytree Present: Sorry for Party Rocking Tour Featuring LMFAO and the Party Rock Crew and Special Guests.
VIP Packages will also be available through VIP Nation, including premium seats, exclusive merchandise and more. For more information please visit: www.VIPNation.com
DATE CITY VENUE ON SALE DATE
May 22 Columbus, OH Nationwide Arena March 2
May 23 Detroit, MI The Palace of Auburn Hills March 2
May 25 Minneapolis, MN Target Center March 3
May 26 Chicago, IL Allstate Arena March 3
May 28 Denver, CO Red Rocks Amphitheatre March 3
May 30 Salt Lake City, UT Maverik Center March 3
June 1 Spokane, WA Spokane Arena March 3
June 2 Seattle, WA KeyArena March 3
June 5 Los Angeles, CA STAPLES Center March 3
June 6 Sacramento, CA Power Balance Pavilion March 2
June 8 Oakland, CA ORACLE Arena March 2
June 9 San Diego, CA Valley View Casino Center March 3
June 12 Houston, TX Toyota Center March 3
June 13 Tulsa, OK BOK Center March 3
June 15 Dallas, TX American Airlines Center March 3
June 19 Charlotte, NC Bojangles' Coliseum March 2
June 20 Atlanta, GA Philips Arena March 2
June 22 Miami, FL AmericanAirlines Arena March 2
June 23 Orlando, FL Amway Center March 3
June 25 Washington, DC Patriot Center March 2
June 26 Uniondale, NY Nassau Coliseum March 3
June 28 Uncasville, CT Mohegan Sun Arena March 3
June 29 Newark, NJ Prudential Center March 3
June 30 Philadelphia, PA Wells Fargo Center March 2
July 1 Worcester, MA DCU Center March 3
July 4 Toronto, ON Molson Canadian Amphitheatre March 2
ABOUT LIVE NATION ENTERTAINMENT:
Live Nation Entertainment (NYSE: LYV) is the world's leading live entertainment and eCommerce company, comprised of four market leaders: Ticketmaster.com, Live Nation Concerts, Front Line Management Group and Live Nation Network. Ticketmaster.com is the global event ticketing leader and one of the world's top five eCommerce sites, with over 26 million monthly unique visitors. Live Nation Concerts produces over 20,000 shows annually for more than 2,000 artists globally. Front Line is the world's top artist management company, representing over 250 artists. These businesses power Live Nation Network, the leading provider of entertainment marketing solutions, enabling over 800 advertisers to tap into the 200 million consumers Live Nation delivers annually through its live event and digital platforms. For additional information, visit www.livenation.com/investors.
ABOUT CHERRYTREE RECORDS:
Founded in 2005 by songwriter, producer and label executive Martin Kierszenbaum, Cherrytree Records has had a huge impact on modern pop, launching the 15 million album selling Lady Gaga in 2009 as well as guiding the flourishing US careers of Robyn, La Roux, Feist, Ellie Goulding and worldwide successes of LMFAO and Far East Movement. In the process, Cherrytree Records and CherrytreeRecords.com have become a source for pop alternative music and culture as well as catalysts for artist collaboration and innovation. Cherrytree Records is known for their novel approach to bringing great pop to people. Flowing in and around the tour will be Cherrytree Cola: Cherrytree has worked in close partnership with legendary beverage maker Fentimans to brew a flavorful new cherry cola that fits the unique Cherrytree Records.
PRESS CONTACTS
For LMFAO and Cherrytree Records:
Christine Wolff
Interscope Geffen A&M
(212)841-8048
Christine.wolff@umusic.com
For Live Nation Entertainment:
Liz Morentin
Live Nation
310-975-6860
lizmorentin@livenation.com
Kristen Foster
PMK
(212)373-6104
Kristen.Foster@pmkbnc.com