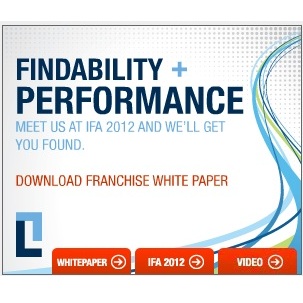 When leaders at Location3 Media signed up to attend the 2012 International Franchise Association Conference they decided to come prepared. Not just with an excellent booth, but with primed prospects ready to discuss the benefits of working with a Google-certified agency. An integrated digital marketing campaign was developed to increase Location3's brand awareness with conference attendees. The results? A major decrease in cost per lead, two 2012 BMA Colorado Gold Key Awards and invaluable insights to help improve client campaigns
"Running campaigns for ourselves serves two purposes: brand awareness and education. The IFA campaign taught us a lot about integrating earned, owned and paid strategies for maximum results. This not only benefitted our business development team, but also provided some fresh insights that we're excited to pass on to clients," said Alex Porter (@porter32), president of Location3.
The case study, Selling Before the Sale: A Pre-Conference Strategy Pays Off, was submitted to the 2012 BMA Colorado Gold Key Awards in two categories and received awards in both.
The first award is a Silver Key in the Digital Marketing: Integrated Online Campaign category. This category requires a minimum of three different digital medias. To promote the brand in conjunction with the IFA Conference, a campaign was developed that included paid search marketing, display advertising and both paid and unpaid social media marketing efforts. New strategies included using dynamic, three-tab SpongeCell display ads that allowed conference visitors to view the Local Search Traffic video, download a franchise whitepaper and set a calendar reminder to visit the Location3 booth at the event. Through the combination of these efforts, Location3's IFA conference page was viewed 2,374 unique times.
The second award is also a Silver Key in the Social Media: Integrated Social Media Campaign category, which requires the integration of three or more social media channels. The IFA campaign utilized Twitter, Foursquare, Facebook, Google+, LinkedIn and Location3's blog. Location3 placed a tip on the check-in service Foursquare to remind conference attendees of the company's booth number when they checked in to the conference. The Promoted Tweets campaign resulted in a traffic spike on the IFA blog post, 80 percent of which were new site visitors.
Most importantly, the business development team came away from the IFA conference with quality leads. Overall, Location3's marketing campaign resulted in a more than 21% increase in lead quality, 186% increase in lead volume and 45% decrease in cost per lead.
The 2012 BMA Colorado Gold Key Awards celebration will be held in the main hall of the Denver Art Museum on Friday, May 4th. The awards are judged by a panel of marketing professionals representing the different sides of the marketing community, both agency and corporate. The judges all have extensive B2B marketing experience. They score entries on four categories: creativity, production, selling proposition and results.
Location3 has received recognition from BMA Colorado in previous years as well. The interactive Local Search Traffic commercial won the 2011 Silver Key Award and a WildBlue Communications local search campaign won the 2007 Gold Key Award.
For more information contact Angie Pascale: apascale@location3.com | 720.881.8528 | @angiepascale.