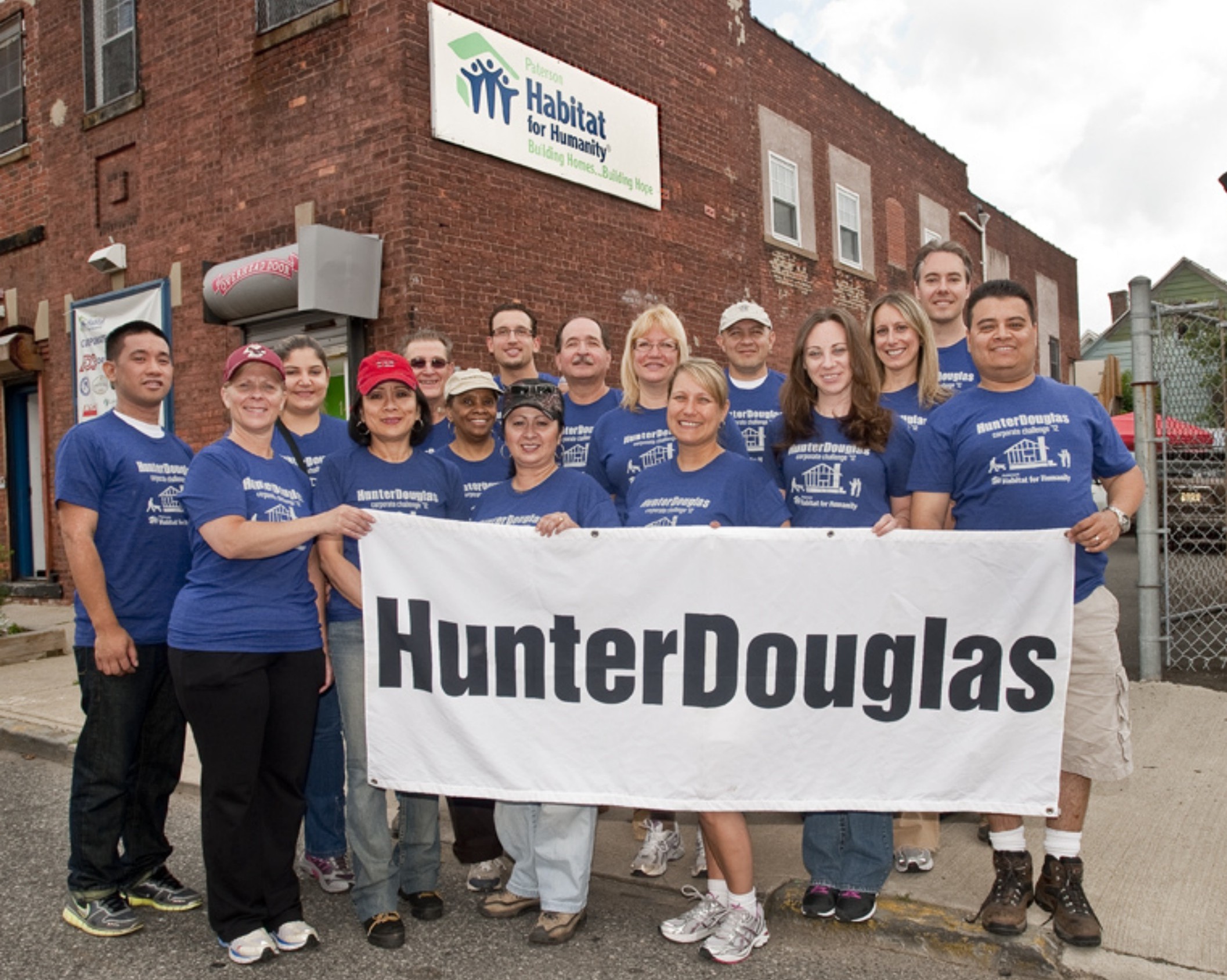 PEARL RIVER, N.Y. – Hunter Douglas, the leading name in custom window fashions, recently did the inner city of Paterson, N.J., a great service. An annual participant for 18 years in the Paterson Habitat for Humanity Corporate Challenge, Hunter Douglas employees volunteered their time and talent to help build homes for lower income families in Paterson.
A team of Hunter Douglas employees rolled up their sleeves and contributed to the efforts on Thursday, June 14. With their help, families in the community will ultimately be given a fresh start and a place to call home.
Hunter Douglas has a longstanding relationship with Habitat for Humanity International. This year marks the 20th year Hunter Douglas has been a national sponsor. The window fashions leader donates and delivers its custom-made window treatments for the privacy rooms of all new and rehab Habitat home construction. Since 1992, Hunter Douglas has covered close to 325,000 windows in Habitat homes across the U.S. and in Canada. What's more, many Hunter Douglas employees have been donating their time to help build Habitat homes in their local communities throughout North America for many years.
"We are proud of our long-term relationship with both our local Habitat affiliate and Habitat for Humanity International, said Jim Mathews, Hunter Douglas Senior Vice President of Marketing. "It is genuinely rewarding for Hunter Douglas to help Habitat for Humanity make a difference."
Hunter Douglas, Inc., headquartered in Pearl River, N.Y., is the leading manufacturer and marketer of custom window fashions in North America and a major manufacturer of architectural products. The company is a national sponsor of Habitat for Humanity, covering windows in every Habitat home built in the U.S. and Canada.
For more information, call 1-800-274-2985 or visit www.hunterdouglas.com.
Visit the Hunter Douglas Facebook at http://www.facebook.com/HunterDouglas?sk=app_190009131096348. Download "The Art of Window Dressing" iPad app at the iTunes app Store at http://itunes.apple.com/us/app/hunter-douglas-the-art-window/id497716331?mt=8 as well as through a link on www.hunterdouglas.com.
# # #
CONTACT: Sarah Fletcher/Kimberly Babcock
LOU HAMMOND & ASSOCIATES
1-800-742-3464; ext. 120, 121
sarahf@lhammond.com
;
kimberlyb@lhammond.com
www.louhammond.com