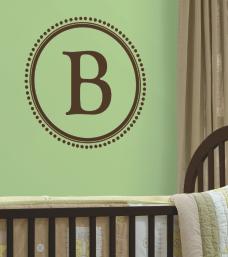 RANDOLPH, Mass. - The days of hearing "don't write on the walls are over" as letters, words and quotes of all types are being added to walls as a growing trend in home décor. The design can be used for every age and in any room including nurseries, children's and teenagers' rooms, dorm rooms, kitchens, baths and even entryways. The look can be attained by stenciling or for a more affordable and less permanent option, try peel-and-stick wall art, such as WallPops, the premier line of wall decals from Brewster Home Fashions. With the following four tips, it is easier than ever to express yourself in any section of the home.

1. Make It Yours with a Monogram: Identify whose home or room it is with the ideal statement piece, a monogram. Try adding the first letter in the family's last name to an entryway or the first letter of a baby's name over a crib in the nursery. WallPops offers removable large letter Monogram packages that are 17.25 inches high by 39 inches wide. Available in three styles, Durham, a circle frame around the letter with small dots around the outer circle, offered in both Ivory White and Espresso Brown; Dorset, letter surrounded by a circle and edged with an outside flower shape; and South Hampton, an elegant oval lace around the letter. The Dorset and South Hampton are available in Ivory White. All approximately $33.

2. Inspire Guests: Inspire guests through the décor. Try adding a favorite quote in a guest bedroom. Put it in a spot not to miss and leave guests feeling uplifted after a visit. WallPops recently introduced Wall Words that includes quotes and inspirational words to display on walls. Kits are provided on sheets with all components and include "All You Need is Love;" with cursive black text and "love" written in bold red; "Dream" in black cursive in lowercase letters with silver decorative accents and "Life is Beautiful" in green text and "beautiful" written in black cursive with a black butterfly above text. All approximately $15.99 each.

3. Add Something to Sing To: In a nursery or a child's room, one way to add a touch of whimsy is with a nursery rhyme on the wall. Try WallPops new Nursery Rhymes and Wall Wishes wall art in chic fonts with silver metallic ink shimmer. The rhymes come two sheets per package and are 10 inches high by 3.5 inches wide and include such popular verses as "Twinkle, Twinkle Little Star," "Row, Row, Row Your Boat," "Hickory, Dickory, Dock," "Pat a Cake" and "Jack Be Nimble, Jack Be Quick." Wall Wishes also come in two sheets per package and are 18.5 inches high by 3.5 inches wide and include such sweet phrases as "Now I Lay Me Down to Sleep" and "Star Light Star Bright," among others. Nursery Rhymes are approximately $15 per pack and Wall Wishes approximately $20 per pack.

4. On the Wall and Organized: Many think of using labels when it comes to organizing a kitchen pantry or laundry room but another option for adhering labels for all to see is to use peel-and-stick wall art alphabets. Display "whites" or "colors" over laundry bins or "lunch items" in a pantry. Alphabets include four sheets of letters that are available in five different colors including Gigi Pink, Baby Blue, Pea Pod Green, Espresso Brown and Ivory White. The letters are 3 to 5 inches high and 2.5 inches wide to make perfect readability. Also for entertaining, try adding letterings to centerpieces and spelling out "happy birthday" or "happy anniversary" on walls or for door signage. Alphabets are approximately $15.

Whether a rhyme, a reminder or a memorable quote, a little bit of lettering can go a long way to make a room one's own.

WallPops collections are available at select retailers nationwide and online at www.wall-pops.com. WallPops Chandeliers are $29.99 each and Decorative Room Panels are $19.99 each. WallPops Dry Erase Message Boards, Monthly Calendars and Weekly Dot Packs are approximately $12.99 each and Dry-Erase Four-Piece Calendars at approximately $19.99 each. WallPops Large Wall Art Kits are approximately $29.99 each and Small Wall Art Kits are approximately $15.99 each. All WallPops Dots, Blox and Stripes are approximately $12.99 each. The WallPops for Baby line are approximately $12.99 per Dot, Concentric Dot, Silhouette and Stripes packs; $15 per Alphabet and Nursery Rhymes packs; $20 for the Growth Chart and Wall Wishes packs and $33 for the Monograms and Tree Wall Art Kit.

Became a fan at: http://www.facebook.com/pages/WallPops/146032655413589 and follow them at http://twitter.com/WallPopswallart.

WallPops by Brewster Home Fashions is the premier line of peel-and-stick wall art on the market today with on-trend design and total coordination possibilities. Headquartered in Randolph, Mass., Brewster Home Fashions is one of the oldest independent, family-owned wallcovering companies in the U.S. that now spans five generations. Since 1954, Brewster Home Fashions has been a prominent manufacturer and distributor of fine wallpapers and home decor products for residential and commercial markets globally. A category leader, the company offers a range of brands and price points that provide more than 10,000 wall and window décor solutions.

# # #

Media can also visit www.louhammond.com for latest press releases and images. Follow on Twitter at LouHammondPR or find us on Facebook.