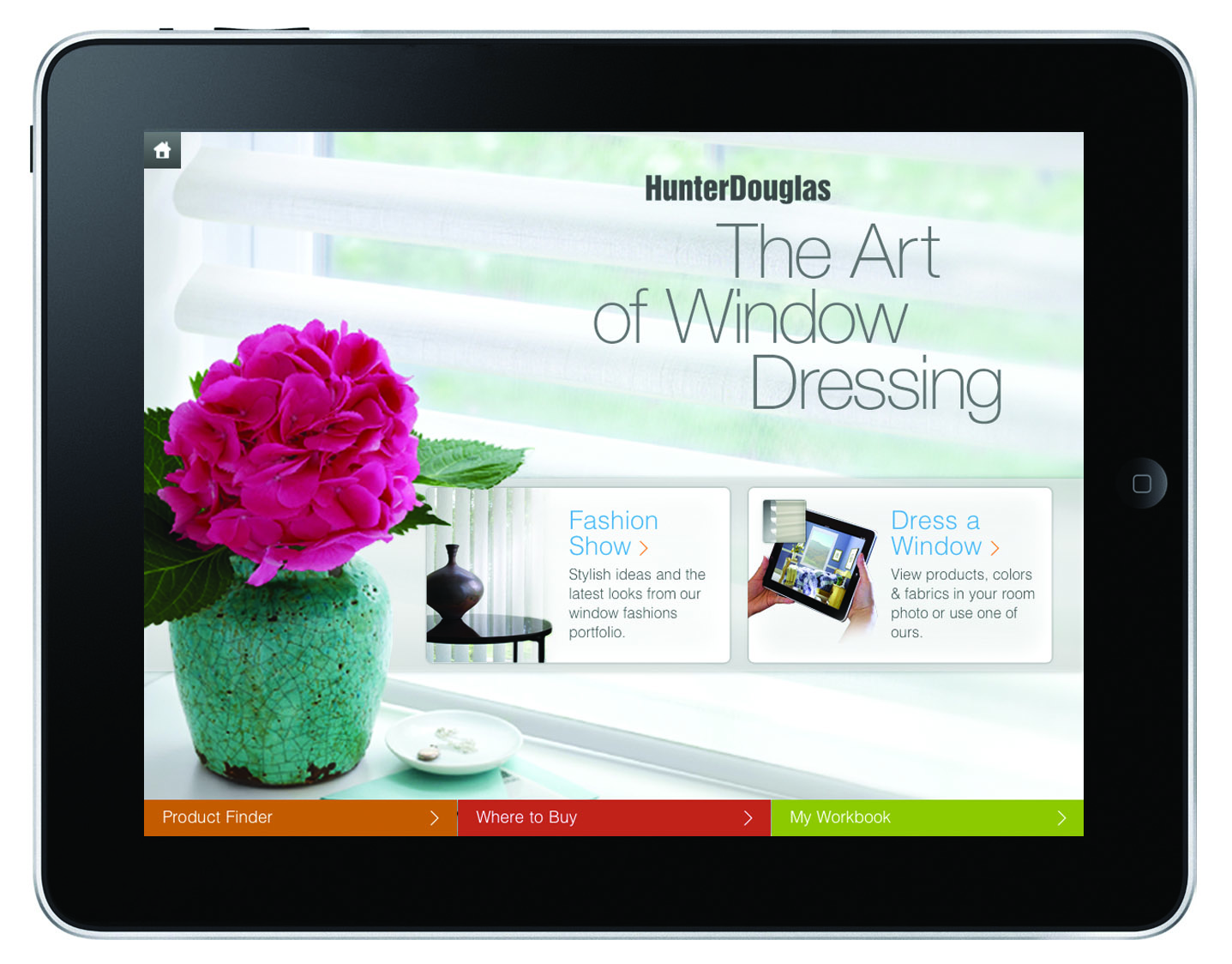 PEARL RIVER, N.Y. – "The Art of Window Dressing" iPad App that lets consumers see how actual products will look on their windows anywhere, anytime from
Hunter Douglas, the leading name in custom window fashions, just won two awards in the first-ever MobileWebAwards. This new award program from the prestigious Web Marketing Association "recognizes the people and organizations responsible for some of the most effective mobile Web sites and mobile apps on the Internet."
The Hunter Douglas App was named both "Best Design Mobile Application" and "Best Consumer Goods Mobile Application." The App was judged on seven criteria to capture the two awards: Creativity, Impact, Design, Content, Interactivity, Ease of use and Use of the medium.
"We are honored to receive these awards," said Ron Kass, Hunter Douglas Executive Vice President of Marketing. "When we launched 'The Art of Window Dressing' App in February, our goal was to dramatically improve the process of how consumers begin their search to find the perfect window treatments – to simplify it and make it fun. These results are a testament to the fact we have succeeded. We thank the judges for their strong endorsement and our partners for their support in developing the App."
The trend-setting application was developed by Hunter Douglas in conjunction with the company's interactive agency of record, Enlighten of Ann Arbor, Mich., and Visual IT Ltd. in the United Kingdom.
Features include:
"Fashion Show" – a virtual showroom of the company's extensive line of custom window fashions that add great design to any home.
"Dress A Window" that allows consumers to preview how each product looks in sample room scenes or in their own homes. They can take their own picture of a room and render products right on the windows to preview how different styles impact the overall decor.
"Swatch Sorter" that lets consumers sort through the thousands of choices. They can select among light-filtering options, different fabrics and color families. The color section sorts the fabrics available in each product style by color families. Once a color family is selected, just the fabrics within that family are shown so that the process of finding just the right fabric/color combination is much easier.
A "Workbook" lets room renderings be saved complete with product specifications. These room scenes can be shared by e-mail, Facebook and when visiting dealers.
A Dealer Locator lists nearby retailers.
"The Art of Window Dressing" App is available at the iTunes App Store as well as through a link on www.hunterdouglas.com.

Hunter Douglas, Inc., headquartered in Pearl River, N.Y, is the leading manufacturer and marketer of custom window fashions in North America and a major manufacturer of architectural products. The company is a national sponsor of Habitat for Humanity, covering windows in every Habitat home built in the U.S. and Canada.

For more information, call 1-800-274-2985 or visit: www.hunterdouglas.com

###

Media can also visit www.louhammond.com. Follow on Twitter at LouHammondPR, Find us on Facebook.