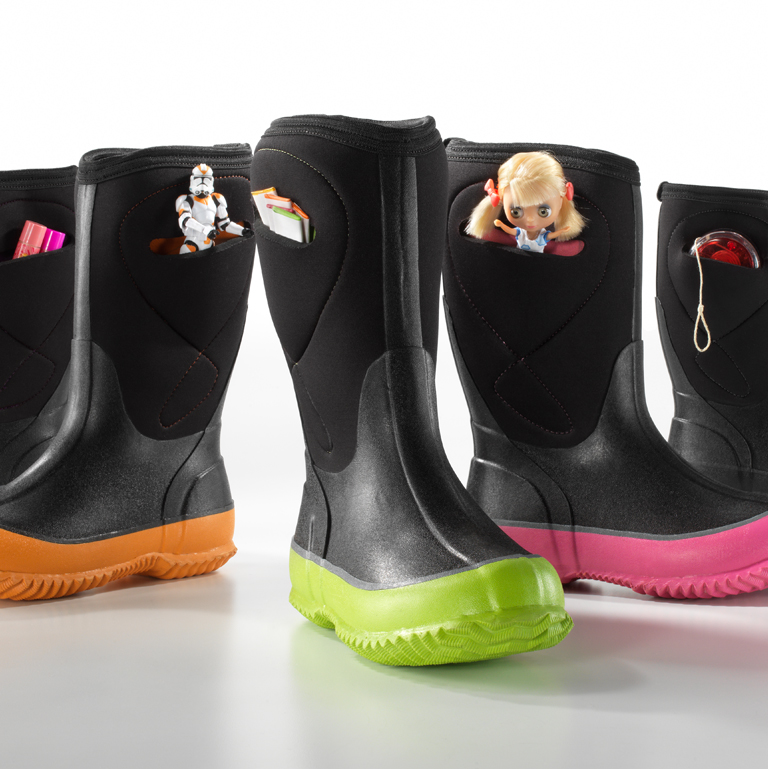 LUME Footwear Asks, "What Do Kids Put in Their Pockets?"

LUME Footwear Asks, "What Do Kids Put in Their Pockets?"
Portland, Oregon, May 2, 2012. Wrayann Estey, Co-Founder of LUME Footwear (pronounced: LU-ME) announced today the launch of a new line of kid's footwear for Fall/Winter 2012.
Our kids like to venture outside. And when they do; having an extra pocket comes in handy. That's why today LUME announces their introduction of the LUME Jr. Sleeve. The unique design will feature a built in neoprene sleeve on the boot that is capable of stretching to the size of any small thing they put in it—while still offering insulated comfort.
"When kids are out exploring they like to carry and keep all sorts of things—rocks, loose change, action figures, dolls, baseball cards, Chap Stick, gum…you name it" said Wrayann Estey, Co-Founder at LUME Footwear, "so we gave the boots a built-in-sleeve to store them in."
Designed with a 100% waterproof construction for quality splashing and a flexible / resilient Neoprene boot, the Jr. Sleeve stays on their feet no matter what they're scrambling over—even when the thermometer drops below zero. Add to that a non-marking deep lug herringbone rubber outer sole for increased traction and an antimicrobial insole and these boots will last as long as a kid's energy does.
The Jr. Sleeve by LUME is the perfect addition to any outdoor activity where Play, Comfort and Insulation are a must when playing outside. LUME Footwear will debut its Fall/ Winter line at LUMEfootwear.com this July.
About LUME Footwear
LUME Footwear, LLC established in 2011 and based in Portland, Oregon, designs and distributes women's and kid's footwear under the new signature line LUME. Launching in FA'12 with The Jr. Sleeve, a new kids product, LUME Footwear brings an innovative concept to the outdoor lifestyle market by incorporating a unique inner sleeve concept into all of their products. For photos and detailed descriptions of the new LUME Footwear line, please visit http://www.lumefootwear.com (under construction) or follow @LUMEFootwear on Twitter.
For general inquiries, please contact Wrayann Estey, Co-Founder, at wrayann@lumefootwear.com or 503-998-0490