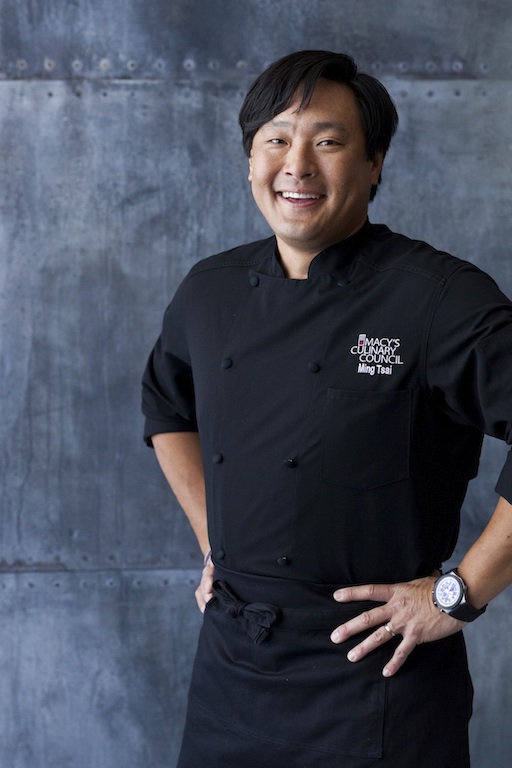 Look Who's Cooking!
Meet celebrity chef and award-winning television personality, Macy's Council Chef Ming Tsai! Ming will demonstrate some favorite recipes from his latest cookbook, Simply Ming in Your Kitchen, 80 Recipes to Watch, Learn, Cook & Enjoy. Following the demonstration, Ming will greet guests and sign copies of the cookbook.
Reservations are not required. Seating begins at 5:30pm. First-come, first-served basis.
Admission for each class is a $5 donation to benefit Hawaii Food Bank.
Thursday, October 18th, 6pm
Macy's Ala Moana
Demonstration Kitchen, Level 4
1450 Moana Boulevard
Honolulu, HI 96814
*Event subject to change or cancellation. While supplies last.
About Macy's:
Macy's
, the largest retail brand of Macy's, Inc., delivers fashion and affordable luxury to customers at more than 800 locations in 45 states, the District of Columbia, Puerto Rico and Guam. Macy's stores and macys.com offer distinctive assortments including the most desired family of exclusive and fashion brands for him, her and home. Macy's is known for such epic events as Macy's 4th of July Fireworks® and the Macy's Thanksgiving Day Parade®, as well as spectacular fashion shows, culinary events, flower shows and celebrity appearances. Building on a 150-year tradition, Macy's helps strengthen communities by supporting local and national charities that make a difference in the lives of our customers.
About Macy's Culinary Council:
Macy's Culinary Council
is a national culinary authority comprising some of the nation's leading culinary masters, including Rick Bayless, Michelle Bernstein, Cat Cora, Tom Douglas, Todd English, Marc Forgione, Johnny Iuzzini, Emeril Lagasse, Marcus Samuelsson, Tim Scott, Nancy Silverton, Ming Tsai, Wolfgang Puck and Takashi Yagihashi. Launched in 2003, MCC's team of distinguished chefs serves to inspire the way Macy's customers shop, cook and eat at home. The chefs are both ambassadors and instructors, providing expert culinary advice and leading cooking demonstrations at Macy's stores, with the aim of teaching customers how to cook and shop like a master chef.
The Ming Tsai Story
Ming was raised in Dayton , Ohio , where he spent hours cooking alongside his mother and father at their family-owned restaurant, Mandarin Kitchen. His love of cooking (and eating!) great food was forged in these early years, while also gaining valuable experience in front and back of the house. Ming headed east to attend school at Phillips Academy Andover. From there, Ming continued to Yale University , earning his degree in Mechanical Engineering. During this time, Ming spent his junior summer at Le Cordon Bleu cooking school in Paris . After graduating from Yale, Ming worked in kitchens around the globe. He trained under renowned Pastry Chef Pierre Herme in Paris and in Osaka with Sushi Master Kobayashi. Upon his return to the United States , Ming enrolled in graduate school at Cornell University , earning a Master's degree in Hotel Administration and Hospitality Marketing. Ming continued to learn varied styles of cuisine, holding positions in both front and back of the house at establishments in Chicago , Atlanta , San Francisco and Santa Fe .
In 1998, Ming opened Blue Ginger in Wellesley , MA and immediately impressed diners from Boston and beyond with the restaurant's innovative East-West cuisine. In its first year, Blue Ginger received 3 stars from the Boston Globe, was named "Best New Restaurant" by Boston Magazine, was nominated by the James Beard Foundation as "Best New Restaurant 1998," and Esquire Magazine honored Ming as "Chef of the Year 1998." The James Beard Foundation crowned Ming "2002 Best Chef Northeast" and, since 2002, the Zagat Restaurant Guide has rated Blue Ginger the top "5" of Most Popular Boston Restaurants." In 2007, Blue Ginger received the Ivy Award from Restaurants & Institutions for its achievement of the highest standards in food, hospitality and service, and in 2009, Ming and Blue Ginger won IFMA's Silver Plate Award in the Independent Restaurant category recognizing overall excellence in the country.
Ming is a national spokesperson for the Food Allergy and Anaphylaxis Network (FAAN), and is proud to have developed the Food Allergy Reference Book, first used at Blue Ginger, a pioneering system that creates safeguards to help food-allergic people dine safely. For four years, Ming worked with Massachusetts Legislature to help write Bill S. 2701, which was signed into law in 2009. This groundbreaking legislation, the first of its kind in the US , requires local restaurants to comply with simple food allergy awareness guidelines.
Ming is the host and executive producer of the public television cooking show, SIMPLY MING, currently in its tenth season. In 2009, SIMPLY MING received two Emmy nominations in the categories of 'Outstanding Culinary Program' and 'Outstanding Culinary Host,' and received two Bronze Telly Awards for 'Lighting' and 'Art Direction.' In 2011 SIMPLY MING received a CINE Golden Eagle Award. His SIMPLY MING video podcasts feature tutorials on everything from filleting fish to food allergy basics (available on ming.com and iTunes). Ming began cooking for television audiences on the Food Network, where he was the 1998 Emmy Award-Winning host of East Meets West with Ming Tsai. Ming's Quest, his popular cooking adventure series, also aired on Food Network.
Ming is the author of five cookbooks: Blue Ginger: East Meets West Cooking with Ming Tsai, Simply Ming, Ming's Master Recipes and Simply Ming One-Pot Meals, and Simply Ming in Your Kitchen: 80 Recipes to Watch, Learn & Enjoy.
Ming is a proud member of Common Threads and the Harvard School of Public Health's Nutrition Round Table. His other favorite charities include Big Brothers Big Sisters, The Cam Neely Foundation, Family Reach Foundation and Squashbusters. For more info rmation on Ming, visit www.ming.com, his info rmation-based site focusing on East-West living, recipes, culinary gadgets and more.