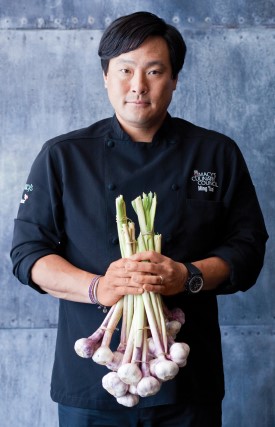 Macy's Culinary Council Chef Ming Tsai Teams up with KitchenAid! Lights! Cook! Action!
Macy's Culinary Council And KitchenAid are hitting the road to cook with some of the hottest chefs across the country. Together, they'll combine their culinary talents and prepare some of their signature dishes using locally sourced ingredients.
When:
June 29th 2012 5:00 PM
Where:
Macy's Downtown Boston
450 Washington Street
Boston, MA 02111
About Ming Tsai:
Ming Tsai
opened Blue Ginger in February 1998, and ever since, the East-West bistro and its chef have been honored with numerous accolades, including the James Beard award for the 2002 Best Chef Northeast. Blue Ginger has been rated among the top five most popular restaurants in Boston by the Zagat Restaurant Guide for the last ten years. In 2008, Blue Ginger expanded, creating three private dining rooms and the Lounge at Blue Ginger, serving an Asian Tapas menu featuring Ming's Bings. Ming, an Emmy Award winner, currently hosts and is executive producer of the Emmy-nominated public television cooking show Simply Ming, currently in its ninth season. In addition, he produces vodcasts offering tips and tutorials on everything from filleting fish to decanting wine. Ming is the author of four cookbooks: Blue Ginger, Simply Ming, Ming's Master Recipes, and Simply Ming One-Pot Meals. The chef developed a Food Allergy Reference Book, first used at Blue Ginger, a pioneering system that creates safeguards to help food-allergic people dine safely. He also worked with the Massachusetts Legislature to help write Bill S. 2701, passed in 2009, which requires local restaurants to comply with specific food allergy awareness guidelines. Ming is a national spokesperson for FAAN (FoodAllergy and Anaphylaxis Network) and a proud member of Common Threads, the Harvard School of Public Health's Nutrition Round Table, the Cam Neely Foundation and Squashbusters.
About Macy's:
Macy's,
the largest retail brand of Macy's, Inc., delivers fashion and affordable luxury to customers at more than 800 locations in 45 states, the District of Columbia, Puerto Rico and Guam. Macy's stores and macys.com offer distinctive assortments including the most desired family of exclusive and fashion brands for him, her and home. Macy's is known for such epic events as Macy's 4th of July Fireworks® and the Macy's Thanksgiving Day Parade®, as well as spectacular fashion shows, culinary events, flower shows and celebrity appearances. Building on a 150-year tradition, Macy's helps strengthen communities by supporting local and national charities that make a difference in the lives of our customers.
About Macy's Culinary Council:
Macy's Culinary Council
is a national culinary authority comprising some of the nation's leading culinary masters, including Rick Bayless, Michelle Bernstein, Cat Cora, Tom Douglas, Todd English, Marc Forgione, Johnny Iuzzini, Emeril Lagasse, Marcus Samuelsson, Tim Scott, Nancy Silverton, Ming Tsai, Wolfgang Puck and Takashi Yagihashi. Launched in 2003, MCC's team of distinguished chefs serves to inspire the way Macy's customers shop, cook and eat at home. The chefs are both ambassadors and instructors, providing expert culinary advice and leading cooking demonstrations at Macy's stores, with the aim of teaching customers how to cook and shop like a master chef.