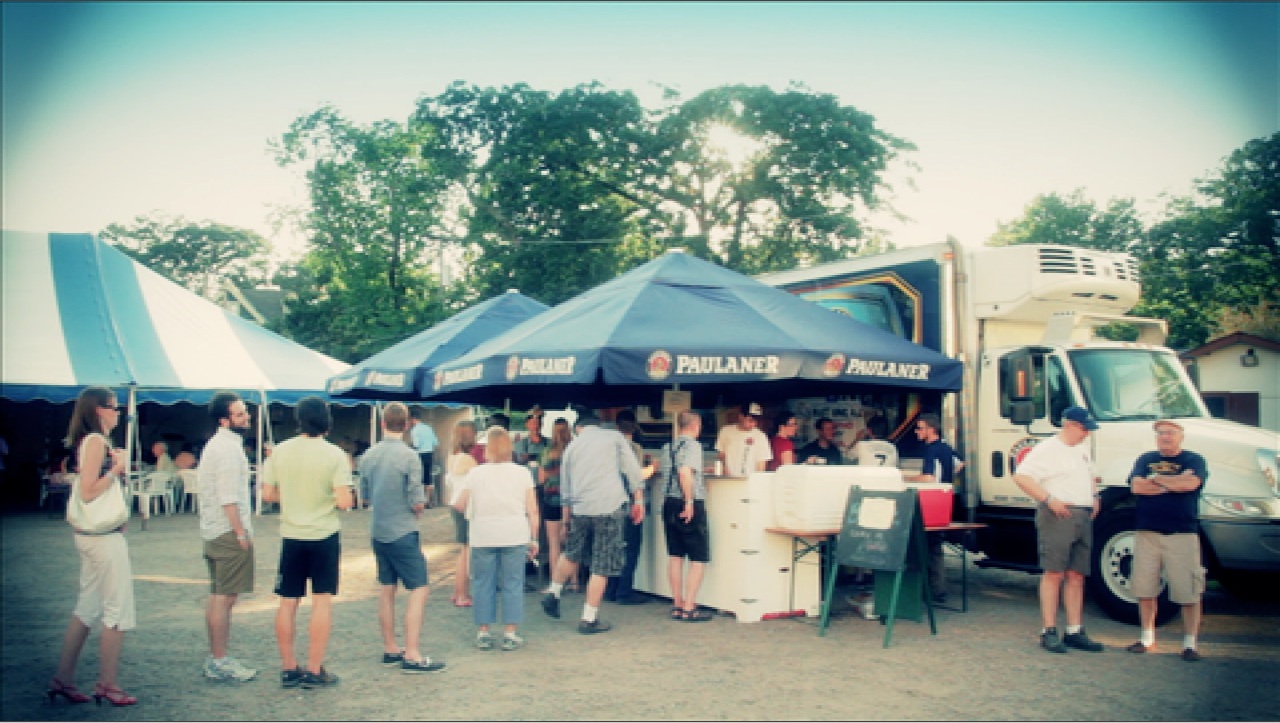 SOMERVILLE, MA—Locals who can't make it to the beer tent in Munich this fall can get a taste of a true Oktoberfest with the traveling Paulaner Biergarten, which will make a stop at
Olde Magoun's Saloon in Somerville
on Saturday, September 15 from noon until 6 p.m. Patrons can enjoy Paulaner's portable biergarten and enjoy the crisp fall air with six kinds of Paulaner beer on tap, including their Oktoberfest Marzen and Weisen and their Lager 'Pils Hefeweisen and Salvador Beers. Olde Magoun's will be grilling traditional Oktoberfest food to add to the ambience.
The Paulaner Biergarten is part of a two-month Oktoberfest celebration hosted by Olde Magoun's Saloon. Oktoberfest kicks off on Wednesday, September 5 with the Paulaner Keg Tapping, where Olde Magoun's will be tapping the Paulaner Tent Beer of the 2012 Oktoberfest Celebration in Munich.
Throughout September and October, the restaurant will have at least eight different German Oktoberfest beers on tap, served by the half and full liter in authentic German beer steins. On Wednesday nights, Olde Magoun's will feature beer promotions and a traditional Oktoberfest menu, with dishes like Ruben Knockwurst, Jagerschnitzel, Bavarian Stew, and more.
The saloon will be taking its Sunday Roast Night German as well, with a variety of German "Sunday Dinners" like Schweinschaxen (crispy pork shank) with potato dumplings, cider-glazed cabbage, and mushroom pan sauce.
The Paulaner Biergarten Tour stop at Olde Magoun's is sponsored by the Weekly Dig and Drink Craft Beer.
Event Information
Paulaner Keg Tapping
What
: Paulaner will be tapping its Tent Beer for the Munich Oktoberfest Celebration
When
: Wednesday, September 5
Where
: Olde Magoun's Saloon, 518 Medford St., Somerville
Paulaner Outdoor Biergarten Tour at Olde Magoun's
What
: Enjoy Paulaner German beers on tap and the outdoor biergarten ambiance that the brewer is famous for.
When
: Saturday, September 15 from 12 p.m. to 6 p.m.
Where
: Olde Magoun's Saloon, 518 Medford St., Somerville