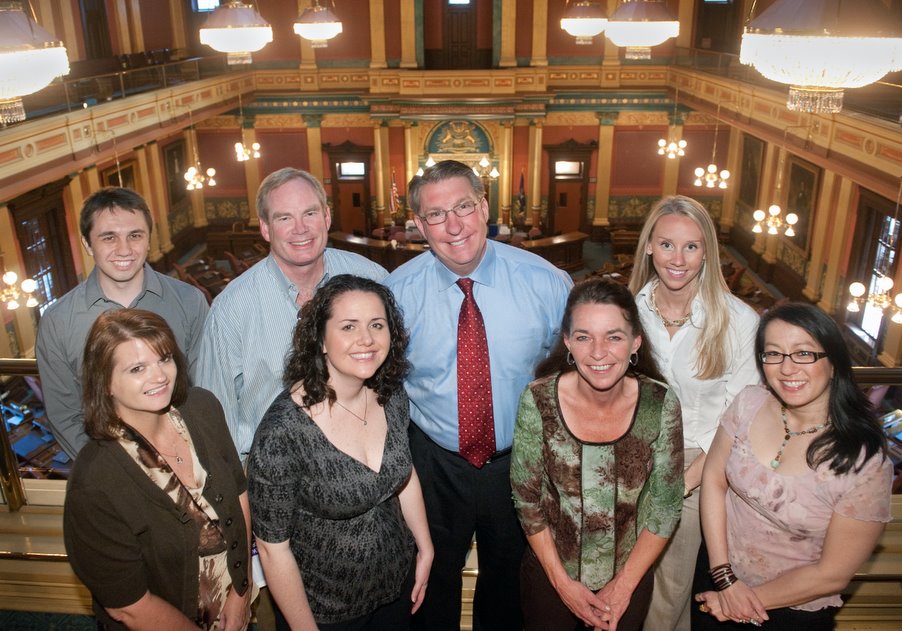 LANSING, Mich. — Lansing-based Martin Waymire Advocacy Communications received three awards in the annual PACE awards competition for the Central Michigan Chapter of the Public Relations Society of America (CMPRSA).
Two of the three awards were first place honors in their categories. Martin Waymire won the top award in Public Service, receiving a Pinnacle for the Launch of Bridge Magazine on behalf of The Center for Michigan. The firm also took home the top Pinnacle award in the Video Programs category for the "We are the EITC" video on behalf of the Michigan League for Human Services. The firm also won the Award of Excellence for the Enroll Michigan campaign in the Integrated Communications category along with the Michigan Health & Hospital Association and Michigan Primary Care Association.
"Of the four entries we submitted in the competition, we and the clients who worked as partners with us on the campaigns and tactics are thrilled and honored to have captured two first place awards and one second place," said Martin Waymire principal Roger Martin, APR. "Our region has many exceptionally talented and skilled practitioners, and we are proud to be recognized along with them for outstanding public relations planning and execution."
The annual PACE (Planning, Action, Communications Evaluation) Awards event was held Thursday night at the Lexington Lansing Hotel. Awards were handed out to a variety of mid-Michigan PR firms, practitioners and other organizations. More than 300 organizations have been recognized by the CMPRSA for excellence in public relations over the past two decades including nonprofit organizations, corporations and public and private agencies. Submissions are judged based on quality of research, planning, execution and evaluation.
To learn about past awards, Martin Waymire's staff, services and more visit our new website, www.mwadvocacy.com. The website, which is being launched today, was designed by Martin Waymire on a Wordpress platform, the same platform used for many of the firm's clients, including this year's award-winning Bridge Magazine, The Michigan Truth Squad and the agency's annual holiday Gives Project site.
###