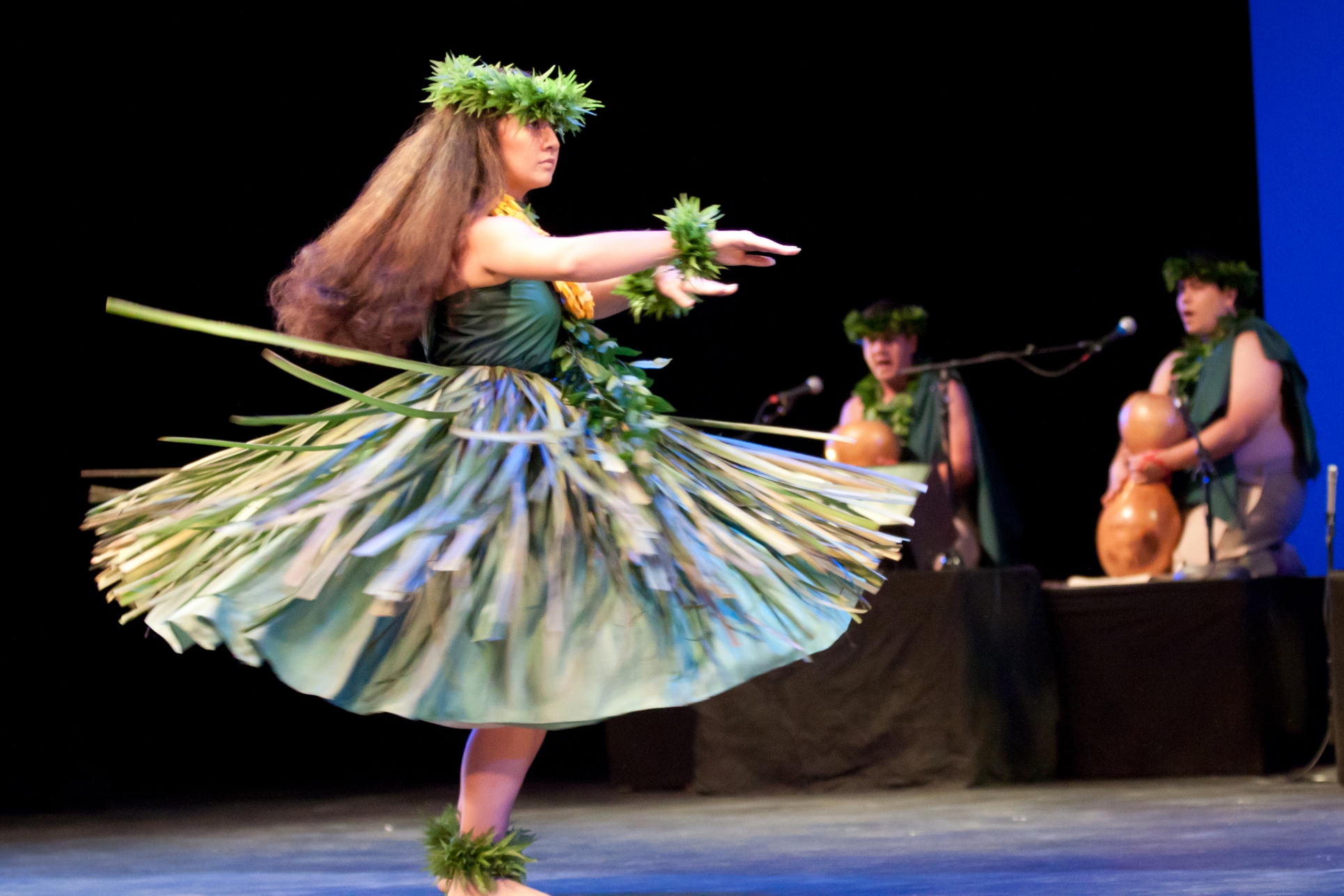 KAHULUI, MAUI, HAWAI'I –- On Saturday, September 8, 2012, Ku Mai Ka Hula (Hula Appears) returns to Castle Theater for the largest adult hula competition in its seven-year history. This year, nine halau winners from Japan's Maui Festival Ku Mai Ka Hula Competition and halau from Hawai'i and California will compete in solo and group performances from 1 to 7 pm.

The groups complete in adult male and female categories, including kupuna, as well as solo performances in kahiko (traditional) and 'auana (modern) hula. The competition is part of a longstanding friendship between Hawai'i and Japan, which is eloquently delivered in this beautiful and inspirational event.

Hokulani Holt, Cultural Programs Director for the MACC and President of Kauahea, Inc. said, "Ku Mai Ka Hula is a wonderful opportunity for all who enjoy hula to come together and celebrate. If you are a hula enthusiast, this is where you should be. Each of the competing halau has placed or won top awards in other hula competitions."

Halau participants include winners from Hawai'i's prestigious Merrie Monarch Festival and the Maui Festival Ku Mai Ka Hula Competition in Japan. This year's halau are:

• Halau I Ka Wekiu, Kumu Hula Karl Veto Baker & Michael Lanakila Casupang, Overall Competition Winner, 1st Place Kane, 3rd Place Wahine at Merrie Monarch Festival 2012
• Halau Hi'iakainamakalehua, Kumu Hula Ke'ano Ka'upu IV & Lono Padilla, 1st Place Chanter, 1st Place Wahine 'Auana, 4th Place Wahine Kahiko at King Kamehameha Day Hula and Chant Competition 2012
• Halau Na Lei Kaumaka O Uka, Kumu Hula Kahulu Maluo & Napua Makua, competed in Merrie Monarch Festivals from 2003-2011 and presented Mohala Mai hula productions for 12 years
• Halau I Kona Mau Lima, Kumu Hula Ualani Smith, 1st Place Wahine Kahiko, 2nd Place Wahine 'Auana, 2nd Place Kane Kahiko & 'Auana at Ku Mai Ka Hula 2011
• Kekaiulu Hula Studio Hawai'i, Kumu Hula Blaine Ikaika Dutro, 2nd Place Solo Wahine 'Auana & Kupuna 'Auana, 2nd Place Wahine 'Auana at E Hula Mai 2010
• Halau Hula Kauluokala, Kumu Hula Uluwehi Guerrero, numerous awards at King Kamehameha Day Hula and Chant Competitions
• Halau O Lilinoe, Kumu Hula Sissy Ka'io & Lilinoe Ka'io from Los Angeles, California, numerous awards at Merrie Monarch Festival and E Hula Mau Festival
• Ke Anuenue Hula Studio, Kumu Hula Keita Ushijima from Tokyo, Japan, 1st Place Overall Solo Wahine at Maui Festival Ku Mai Ka Hula, Hula Competition 2012
• Hula Halau Kahula O Hawai'i, Kumu Hula Kyoko Kahula Kubokawa from Tokyo, Japan, 1st Place Overall Wahine, 1st Place Overall Kupuna at Maui Festival Ku Mai Ka Hula, Hula Competition 2012


Food, beverages and Hawaiian style crafts are offered for sale from island artisans. Tickets to see Ku Mai Ka Hula 2012 are on sale for $25 adults and $12.50 keiki 12 years of age and younger (plus applicable fees).

As part of the festivities surrounding Ku Mai Ka Hula International Hula Competition, MACC is pleased to offer two special evenings: On Thursday, September 6 at 7:30 pm, recording artist and award-winning kumu hula, Keali'i Reichel will explore an often over-looked genre of Hawaiian poetry–- Hakukole: Sayings & Chants of Ridicule-- in a power-point presentation. Issues of infidelity, physical inadequacy, stupidity, bad manners, irritation, sarcasm, dark humor and revenge are revealed through chant, songs, proverbs and gestures. Tickets are $13 per person (plus applicable fees). Then on Friday, September 7 at 7:30 pm, MACC presents a free screening of the documentary film, Fukushima Hula Girls (2011). The story revolves around the efforts of the hula performers from Spa Resort Hawaiians in Fukushima as they tour the country to persuade their fellow citizens to visit the resort, even as the region struggles towards recovery after the Great East Japan Earthquake and Tsunami. Interested patrons should contact the MACC Box Office for complimentary seating tickets; a donation to Japan disaster relief will be appreciated.

Call the MACC Box Office at (808) 242-SHOW (7469) or purchase tickets online at MauiArts.org.

Ku Mai Ka Hula is presented by Maui Arts & Cultural Center and Kauahea, Inc. with support from the National Endowment for the Arts, Hawai'i Tourism Authority and County of Maui Office of Economic Development, Tihati Productions, Akina Aloha Tours and Old Lahaina Lu'au.

###

ABOUT KAUAHEA INC:

Kauahea Inc. supports Hawaiian arts and culture, Hawaiian spiritual practices, and the preservation and perpetuation of Hawaiian language. The organization is committed to providing opportunities for access to arts and cultural learning, knowledge of Hawaiian spiritual practices and ceremonial activities, and Hawaiian culture and language learning opportunities throughout the Maui community. For more information, visit the website at Kauahea.org.

ABOUT MAUI ARTS & CULTURAL CENTER:

Maui Arts & Cultural Center (MACC) opened in 1994, the culmination of a long standing dream of Maui's residents to build a world-class gathering place for the arts. The Center is the most comprehensive, multi-disciplinary arts facility in Hawai'i. Its diverse facilities include the state-of-the-art 1200-seat Castle Theater; multi-purpose 300-seat McCoy Studio Theater; the 4,100-square foot museum-quality Schaefer International Gallery; a 5,000-seat capacity outdoor Alexander & Baldwin Amphitheater; the Pa, dedicated to hula, as well as a mix of dance studio, classroom, and meeting room space. The Yokouchi Pavilion complex features a concert stage under a glass-capped roof, bistro dining in a glass-covered courtyard, built-in beverage bars, catering preparation kitchen and second floor gathering hall. MACC is a private 501(c)3 nonprofit corporation governed by a volunteer board of directors and supported by the generosity of people who love Maui. For more information, call 808-242-ARTS (2787) or visit MauiArts.org.