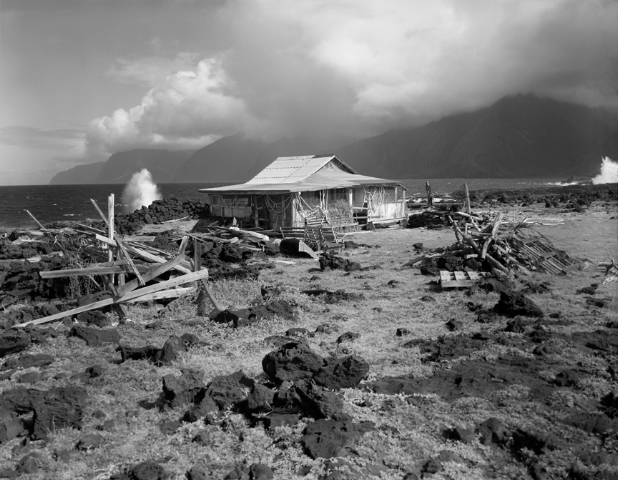 KAHULUI, MAUI, HAWAI'I — Maui Arts & Cultural Center and the Schaefer International Gallery are pleased to present the historical exhibition, A Reflection of Kalaupapa - Past, Present and Future - Photography by Wayne Levin from August 19 through September 30, 2012.
The historical role of Kalaupapa and its impact and influence on families and communities of Hawai'i is emphasized in the exhibit through Wayne Levin's eloquent portraits of Kalaupapa residents and their families. Supplemented by archival documents and interviews along with rarely seen historical photographs, Levin's work embodies the past and present of Kalaupapa, telling the complete story of this remote northern peninsula on the island of Moloka'i.
Kalaupapa represents a presence and an absence; it also represents the re-creation and loss of community as people were forced from their homes and landholdings and deposited in the wilderness. The transformation of Kalaupapa from a place of shame to a sacred ground of reconnection and remembrance is evident in this exhibit. Kalaupapa has been kept at a distance from conversations about Hawai'i, but the exhibit humanizes this chapter of Hawai'i's history, bringing names and faces, emotions and stories to life and reminding us that the chapter has not yet ended.
Free public events have been created to supplement the exhibition:
On Sunday, August 19 from 2 to 4 pm, a talk-story session on Remembering Kalaupapa will take place in McCoy Studio Theater. The discussion features eight panelists, including Val Monson as moderator; Boogie Kahilhiwa, resident of Kalaupapa for more than 50 years; Ka'iulani Hess whose parents were both at Kalaupapa; Kalapana Kollars, whose ancestors were at Kalaupapa since the early years; Sol Kaho'ohalahala, who had ancestors at Kalaupapa; Donna Sterling, who is the descendant of one of the first three women sent to Kalaupapa in 1866; Taka Harada, whose brother was sent to Kalaupapa; Maika'i Kapahe'e Kaufman, who is 12 years old and whose ancestor who died at Kalaupapa in 1893.
Photographer Wayne Levin will lead an exhibit walk-through on Monday, August 20 at 3:30 pm and present a lecture on Documenting through Photography for high school students and the public in Schaefer International Gallery.
On Saturday, September 22 at 10 am, historian Anwei Skinsnes Law will present a workshop entitled, The People of Kalaupapa as Active Participants in Their Own History. The day will begin with a tour of the exhibit in Schaefer International Gallery followed by a presentation on the voices of the people of Kalaupapa, past and present, and well-known figures in Kalaupapa's history.
A Reflection of Kalaupapa exhibition is presented by Maui Arts & Cultural Center and organized by Ka 'Ohana O Kalaupapa. It is supported by Hawai'i Council for the Humanities, Office of Hawaiian Affairs, Hawai'i Tourism Authority, Atherton Family Foundation, Fred Baldwin Memorial Foundation and IDEA.
Schaefer International Gallery is open Wednesday through Sunday from 11 am to 5 pm, and before shows in Castle Theater. Admission is always free. For more information, call Gallery Director Neida Bangerter at 808-243-4288 or visit MauiArts.org Exhibits section.
###
ABOUT MAUI ARTS & CULTURAL CENTER
Maui Arts & Cultural Center (MACC) opened in 1994, the culmination of a long standing dream of Maui's residents to build a world-class gathering place for the arts.

The Center is the most comprehensive, multi-disciplinary arts facility in Hawai'i. Its diverse facilities include the state-of-the-art 1200-seat
Castle Theater
; multi-purpose 300-seat
McCoy Studio Theater
; the 4,100-square foot museum-quality
Schaefer International Gallery
; a 5,000-seat capacity outdoor
Alexander & Baldwin Amphitheater
; the
Pa,
dedicated to hula, as well as a mix of dance studio, classroom, and meeting room space.

The
Yokouchi Pavilion Complex
features a concert stage under a glass-capped roof, bistro dining in a glass covered courtyard, built-in beverage bars, catering preparation kitchen and second floor gathering hall.

MACC is a private 501(c)3 nonprofit corporation governed by a volunteer board of directors and supported by the generosity of people who love Maui.

For more information, call 808-242-ARTS (2787) or visit MauiArts.org.