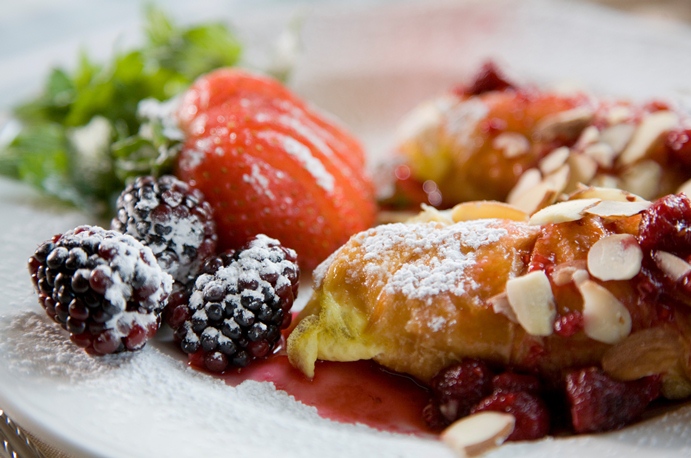 NEWS FROM HISTORIC INNS OF ROCKLAND, MAINE
Contact: Marti Mayne, 207-846-6331 or info@maynelymarketing.com
Rockland, ME - Rockland, Maine is quickly gaining a reputation as a foodie town; often described as a more compact version of Portland, Maine. Recently, T
heDailyMeal.com
named Rockland among the nine best small foodie towns in the country. Offering award winning restaurants, specialty food producers and a bourgeoning wine region, Midcoast Maine's culinary adventure abounds, so Historic Inns of Rockland have packaged the best of the foodie elements into one fantastic package. Culinary explorers, foodies and those who love to explore local foods will enjoy the Savor the Flavor fun-filled itinerary to explore and savor the flavors of Midcoast Maine accompanied by the finest accommodations from the four Historic Inns of Rockland.
Celebrating an early spring, the H
istoric Inns of Rockland
offer this exciting package starting May 13 through October 3, 2012. Get ready for a long list of inclusions because this is one hearty lodging package guaranteed to find the way to your mate's heart through his or her stomach. With so much happening on the Rockland and Camden culinary scene, the Historic Inns of Rockland have packed a three day/night package with locally sourced foods and exclusive tours and tastings topped off with accommodations at award winning LimeRock Inn, Captain Lindsey House, Granite Inn and Berry Manor Inn. You'll need all three days and nights to explore all that's offered in the Midcoast food scene. The package is offered Sunday through Tuesday, with scheduled features and self-guided fun on the agenda for three days and nights.
The Savor the Flavors package includes:
• Three night's accommodations for two on Sunday, Monday and Tuesday at your choice of four Historic Inns of Rockland, May 13-October 3, 2012.
• A hearty breakfast each morning featuring as many locally-sourced features as possible.
• An exclusive garden tour of renowned Primo Restaurant, a pioneer in Farm to Table philosophy. Primo Restaurant was named America's top eco-friendly restaurant for sustainable practices in 2008 by Bon Appetit Magazine and the Andrew Harper Grand Award for Restaurant of the Year winner in 2012.
• An autographed copy of Mediterranean Women Stay Slim Too by Melissa Kelly, owner of Primo Restaurant.
• A $50 Midcoast Money voucher to enjoy dinner at Primo Restaurant (advance reservation required), in the Primo Tavern or at a wide range of other fine restaurants in the Rockland/Camden area.
• A self-guided tour and map of the specialty food purveyors in Midcoast, Maine with tastings and samples provided exclusively to Historic Inns of Rockland's guests.
• Two tickets to the well-loved Nap-Ah guided Wine Tour provided by All Aboard Trolley, visiting three Midcoast Maine wineries (Sweetgrass Winery, Savage Oakes Winery and Cellardoor Winery) for tastings and tours via a comfortable trolley.
• A special tasting at FIORE Artisian Olive Oils and Balsamic Vinegars on Main Street in Rockland, sampling a 10-year-old, 15-year-old and 135-year-old Balsamic vinegar, while learning cooking tips and recipes, history and health benefits of olive oils and vinegars.
• An exclusive tour and tasting at Breakwater Vineyards for Historic Inns of Rockland's guests.
• A gift bag with an signature Historic Inns of Rockland apron and a special collection of value offers for savings exclusive to Historic Inns of Rockland guests from Rockland and Camden area restaurants (offering free apps, desserts or special offers), stores (offering discounts), spas (offering discounts) and attractions (offering discounted or half price tickets). The value collection represents more than $250 in savings.
All this starting at $520 per couple (plus ME tax). Price will vary by date and room selection. (Holidays and festival weeks are not available).
This package also offers some optional adventures offered to Historic Inns of Rockland's guests. These are not included in the package price but have been made available at an additional discounted cost exclusively to Historic Inns of Rockland guests.
• Have the camera ready. Take a tour of a working lobster pound and wharf at Ship To Shore, and then enjoy a real Maine lobster dinner served harborside overlooking a wonderful view of quintessentially Maine Owls Head Harbor ($25 per person).
• Tour Rockland's local Shag Rock micro-brewery at Amalfi On The Water in Rockland topped off with a beer and oyster pairing, sampling four locally brewed beers accompanied by a half dozen fresh shelled oysters. (Reservations required $20 per person, available after July 9, 2012).
Here's a partial list of businesses included on the Savor the Flavors Tasting Tour:
Atlantic Baking Company
Brown Bag Deli & Bakery
Breakwater Vineyards
Chocolatier Blue
Fiore Olive Oils and Balsamic Vinegars
Rock City Roasters and Café
Sweets and Meats
The Store
Sweet Sensations
Willow Street Donuts
At the end of a long, delicious day, plan to return to your choice of the four Historic Inns of Rockland, all located within an easy stroll of downtown Rockland. From historic to contemporary in décor and all offering the kinds of amenities plugged in travelers seek from complimentary wi-fi access to guest computers, lavish private baths and in-room fireplaces, the Berry Manor Inn, Granite Inn, Captain Lindsey House and LimeRock Inn all offer the ideal place to "full down" in comfortable beds with welcoming innkeepers. Then start anew the next morning with a sumptuous hand-crafted breakfast for two.
For more information on the Savor the Flavors package, visit
www.historicinnsofrockland.com
or call 877-ROC-INNS (1-877-762-4667). This summer, plan your culinary caper to Rockland and enjoy a three day gastronomic getaway you won't forget.
# # #