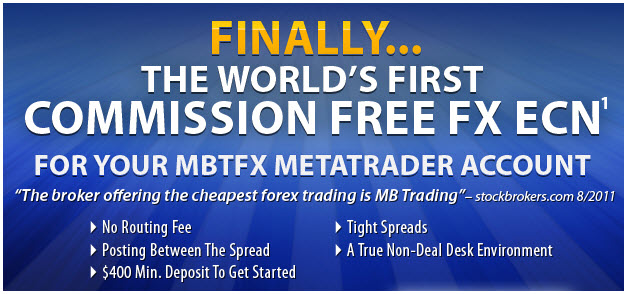 (El Segundo, CA) - MB Trading FX, a technology-driven Forex brokerage offering STP and ECN execution via MetaTrader 4 as well as multiple trading platforms, announced today the launch of its Free ECN pricing structure. MB Trading FX is the first Forex broker to offer free ECN trading.
"The ECN model has matured, and MB Trading FX has led those changes. We believe now is the time to again raise the bar with a commission-free ECN model. This bundles the best of all things FOREX to date—an ECN model with orders reflecting on our Limit book, customers able to cross orders with one another, and a non-fixed spread where all participants may reduce the spread with their bids and offers," said Ross Ditlove, CEO of MB Trading. "Some traders clearly prefer to not have a commission added to their trade after the fact. With this plan, we take our bank fee and apply a small mark-up to cover our costs. The price that is reflected in the montage is the total trade cost. For clients who prefer to only post their limit orders, MB Trading FX will continue to offer its hugely successful Pay for Limits plan, which to date has paid clients over half a million dollars in rebates."
The company is the first brokerage to offer such a pricing structure via its MetaTrader 4 platform. MB Trading FX is now accepting live accounts for the new pricing model and has updated its website to display comparisons of its spreads to other non-commission brokers on its website, www.mbtrading.com.
"Thanks to MB Trading FX's neutrality, our bank quotes are very competitive, thus we can add a small mark-up into the quote and compete with any spread-based Forex broker while still showcasing our ECN technology to allow retail customers to enjoy these benefits," said David Lipsett, Executive Vice-President of MB Trading. "This gives traders two unique pricing plans to select from, both of which are very competitive models within the industry."