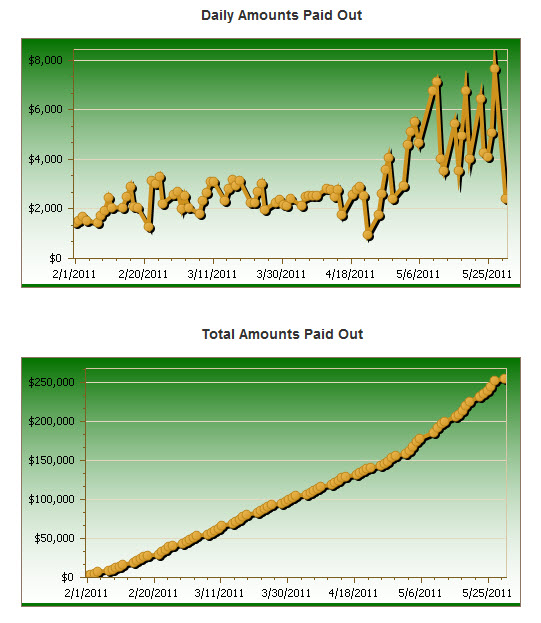 (El Segundo, CA) - May 31, 2011 - Manhattan Beach Trading Financial Services, Inc. ("MBTFS") and MB Trading Futures, Inc. ("MBTF") (collectively "MB Trading"), which is a technology-driven, low-commission brokerage specializing in order routing in FOREX, Equities, Futures, and Options through various global exchanges and electronic networks, announced today that its Pay for Limit order system crossed the $250,000 milestone in payments made to customers.

"The success of our Payment for FOREX Limit Orders has been outstanding," CEO Ross Ditlove stated. "Reaching this number in under five months demonstrates that customers are utilizing the system as we intended. The growth related to Limit order trading by customers on our system has been phenomenal and continues to gain public awareness. This is further validation that clients do care about transparency in the Forex marketplace. Payment for FOREX Limit orders continues to help reduce our spreads as clients continue to take advantage of this transparent marketplace."

On January 31, 2011, MB Trading launched their Payment for Limit Orders liquidity incentive program, which pays customers for posting their FX Limit orders for other traders to see and execute against. Previously, MB Trading operated an ECN platform, charging 2.95 per 100,000 of base currency for orders executed on the MB Trading system. The switch to payments for Limit orders encourages its own base of customers to post and add their liquidity for other traders to interact with.

"To see this sort of growth since the announcement and hit such a key number so quickly is exciting," said David Lipsett, Executive Vice President of MB Trading. "This is a clear sign that customers want to have their orders displayed. They recognize that this is the path to true transparency in Forex. In addition, we're seeing our spreads narrow as more traders use Limit orders. The incentive works."

The public may view the amount paid to clients on both a daily basis and total paid since inception by visiting www.mbtrading.com.

Credits for the Pay for Limit system post immediately in the customer's account upon execution of a posted Limit order. This applies to both MetaTrader 4 and MBT Desktop accounts. Lipsett stressed again that the Pay for Limits plan is a permanent component of the MB Trading business model moving forward. For more details on Pay for Limits pricing plan, please visit the firm's website.