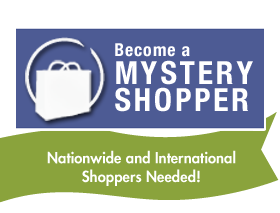 A mystery shopper is a good choice for anyone considering a part-time job or searching for a job that has a lot of flexibility. Mystery shoppers are secret evaluators who observe a company's products and service, and report those findings back to a mystery shopping firm, like Measure CP.

It's important that your identity remain unknown to the business being evaluated at all times — it's called mystery shopping for a reason. The mystery shopper will not receive any special treatment during the mystery shop; quite the contrary. The mystery shopper is there to evaluate the company as if he or she were a typical customer.

To be a successful mystery shopper, there are a few things you should keep in mind.

First off, a mystery shopper must have access to good recording equipment. You can't get good data if your camera keeps dying, for example, or if you still use old film equipment. Smartphones or digital recording devices are especially helpful to those mystery shoppers, because video shops pay more than non-video shops. Measure CP gets a lot of clients who want video shops, and shoppers with this capability are always in high demand.

A mystery shopper must also keep track of details and receipts. Details are what make or break a report – vague reports do nothing to show your true experience. Additionally, keeping track of details will also help to expedite the payment process to the mystery shopper. Reports need to be fully completed and all answers must be consistent. Then, submit the report within the required timeframe (typically 12-24 hours). A mystery shopper should perform the required edits on reports within 24 hours.

As part of keeping your mystery shopper identity secret, it is important to take mental notes during the assignment, and write those notes down after the assignment. Otherwise, employees will figure out pretty quickly who you are.