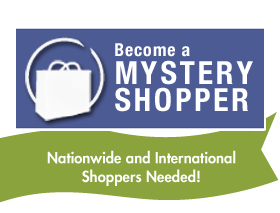 Mystery shopping has many myths surrounding it. People have been told that this is a way to earn unlimited money (it isn't), which make people feel like it's about as real as the pot of gold at the end of a rainbow. That's something we have to fight in the mystery shopping profession and at Measure CP on a regular basis.

But it can be a way for people to earn a few extra dollars. In addition to padding the family's bottom line, some people work in the mystery shopping field in order to save a little money.

It's true that mystery shopping can earn you several perks, which ends up being a money saver for you. At Measure CP, we've had mystery shoppers who get reimbursed for oil changes, rather than getting paid (a $30 value instead of a $15 payment). They get a meal reimbursed at a restaurant, or they get paid to shop for something they were going to get anyway, like clothing.

Mystery shopping trips can take you all over the city, and by choosing the shops you want — the stores you normally visit, the services you normally need, and even visiting the restaurants you normally visit — you can sometimes receive a benefit that's greater than just the payment of the initial mystery shop.

Mystery shopping is even a way to try out new stores, restaurants, and services that you've been meaning to try, but never had the chance. If you're looking for a new place to try, accept the shops that take you to new businesses. This will let you try out a new place while getting paid for it. If you end up not liking the place as much as you thought you would have, you can rest easy at least knowing you got paid to figure it out, rather than using your own money to figure it out.