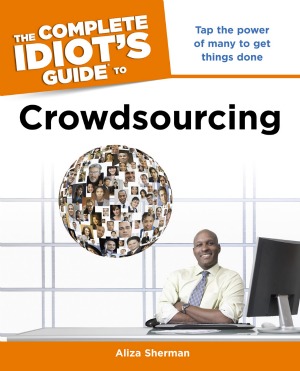 Web pioneer and author Aliza Sherman is heading out on a book tour - the old fashioned kind - up the West Coast starting Aug. 3 promoting her new book
The Complete Idiot's Guider to Crowdsourcing.
Stops include 8/3 in San Diego, 8/8 in Los Angeles, 8/10 in San Francisco, and 8/11 in Napa. The sponsors of the tour include crowdsourcing-related companies
CrowdFlower, uTest,
and
The Daily Crowdsource
along with
VinTank, MySearch Guru
and an online community featured as a case study in the book,
Wine Sisterhood.
"As an author with eight published books, I have learned that a lot of the book promotion is up to me with the publisher there to support my efforts," said Sherman whose ninth book,
Mom Incorporated
, comes out in October. "To get the word out, I'm using my social networks including Facebook, LinkedIn and Twitter and other sites like BookTour.com, Plancast.com, and Eventbrite.com. I couldn't do this on my own without either the traditional sponsors or the social and mobile tools."
The Complete Idiot's Guider to Crowdsourcing
explains the theory and practice of crowdsourcing including:
- how to think about and plan your project to employ crowdsourcing;
- how to find reputable tools you can use to begin crowdsourcing;
- how to tap into established crowdsourcing crowds online but also set up your own;
- how to organize and analyze the input you receive from the crowd to get results; and
- how to apply the crowd's output directly to your business
The book includes information about nearly 100 crowdsourcing companies, service providers, platforms and tools to facilitate the process of tapping into online crowds in an organized, trackable and measurable way.
The complete list of book tour dates are:
8/3 Wed - San Diego
- Book launch party with The Daily Crowdsource and MySearchGuru*
8/4 Thu - San Diego
- Book signing at Women Create Media conference on University of San Diego campus
8/8 Mon - Los Angeles
- Book launch party with Social Media Club Los Angeles*
8/10 Wed - San Francisco
- Book launch party with CrowdFlower*
8/12 Fri - Napa
- Book launch party with VinTank and Wine Sisterhood*
8/14 Sun Oakland
- Sunday morning keynote at Second Life Community Convention.
*A listing with links to the online invitations for the book parties can be found at
http://crowdsourcingbook.wordpress.com/book-tour
.
During the book tour, Sherman will be posting daily from the road including on the Crowdsourcing Book blog and on
Instagram, Intersect, Foursquare,
and other social mobile apps.
About the Author
Aliza Sherman (Tok, Alaska) is a web pioneer and social media innovator. She cofounded Conversify, an early social media marketing agency, and founded Cybergrrl, Inc., one of the first full-service Internet agencies in the '90s. Aliza provides forward-thinking commentary on technology and its impact on communications, marketing, and customer relations. She is an international speaker, and author of
The Everything Blogging Book
,
Streetwise Ecommerce
, and
PowerTools for Women in Business
. Her ninth book,
Mom, Incorporated
, will be released October 2011.
The Complete Idiot's Guider to Crowdsourcing
ISBN: 9781615640928, July 2011, $19.95
Author: Aliza Sherman (Tok, Ala.)