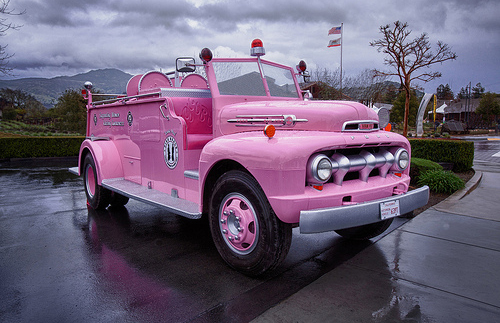 ALBANY, NY, Jan. 10, 2012 – Media Logic, a nationally recognized agency specializing in marketing for a social world, recently completed its Good Old Truck Facebook contest for client Cabela's to support the recreation retailer's year-long "Fifty Years Fifty Trucks" sweepstakes. The contest, which received more than 1,000 entries and more than 80,000 votes, encouraged consumers to share a photo of their "good old truck" and win a $500 Cabela's gift card.
The winning entry, a pink 1952 Ford F-8 Big Job Fire Engine named "Jennie Mae" belonging to Jon Lovie, received more than 5,000 votes. Lovie uses the truck to raise awareness for cancer in Napa Valley, CA.
Lovie vows to put the $500 gift card up for auction and donate the proceeds to a cancer patient. "[Jennie Mae] is named after my wife who was diagnosed with breast cancer 3 years ago," said Lovie in his award entry. "All of the work updating her for her new mission was donated by people and local businesses that have had someone special in their lives that fought cancer. She has thousands of signatures on her from cancer survivors and from loved ones leaving a special note for those who have lost their battle to this horrible disease."
Media Logic believes social engagement—engagement that runs deeper than simply clicking a "like" button—is essential to a successful social marketing campaign. "There are a number of ways brands can encourage fan engagement," said Ron Ladouceur, Media Logic executive vice president and creative director. "Contests that encourage fan participation by posting photos or telling stories are great for recreation retailers. As evidenced by the Cabela's promotion, people have interesting stories to tell—and it's stories like this that really drive engagement with a brand.
According to Derek Fortna, Internet Marketing Manager for Cabela's, social engagement is one of the keys to the outdoor outfitter's marketing strategy. "Promotions like Good Old Truck provide a great way for our fans to interact with the Cabela's brand," said Fortna. "It's about forming stronger relationships, and showing how we understand and identify with our core customer."
Measuring engagement and analyzing how it is achieved is central to Media Logic's social marketing business. Recently, Media Logic created the Retail Social Juice Index to measure social engagement for more than 500 brands across Facebook and Twitter, and then distills the data into a single useful number representative of retail's social engagement. In addition to publishing an industry average on a daily basis, the Retail Social Juice Index highlights each day's biggest movers.
About Media Logic
Media Logic is a nationally recognized and award-winning agency specializing in marketing for a social world: branding, social promotions, influencer marketing and managed community marketing. For more information, visit www.mlinc.com or @medialogic on Twitter.