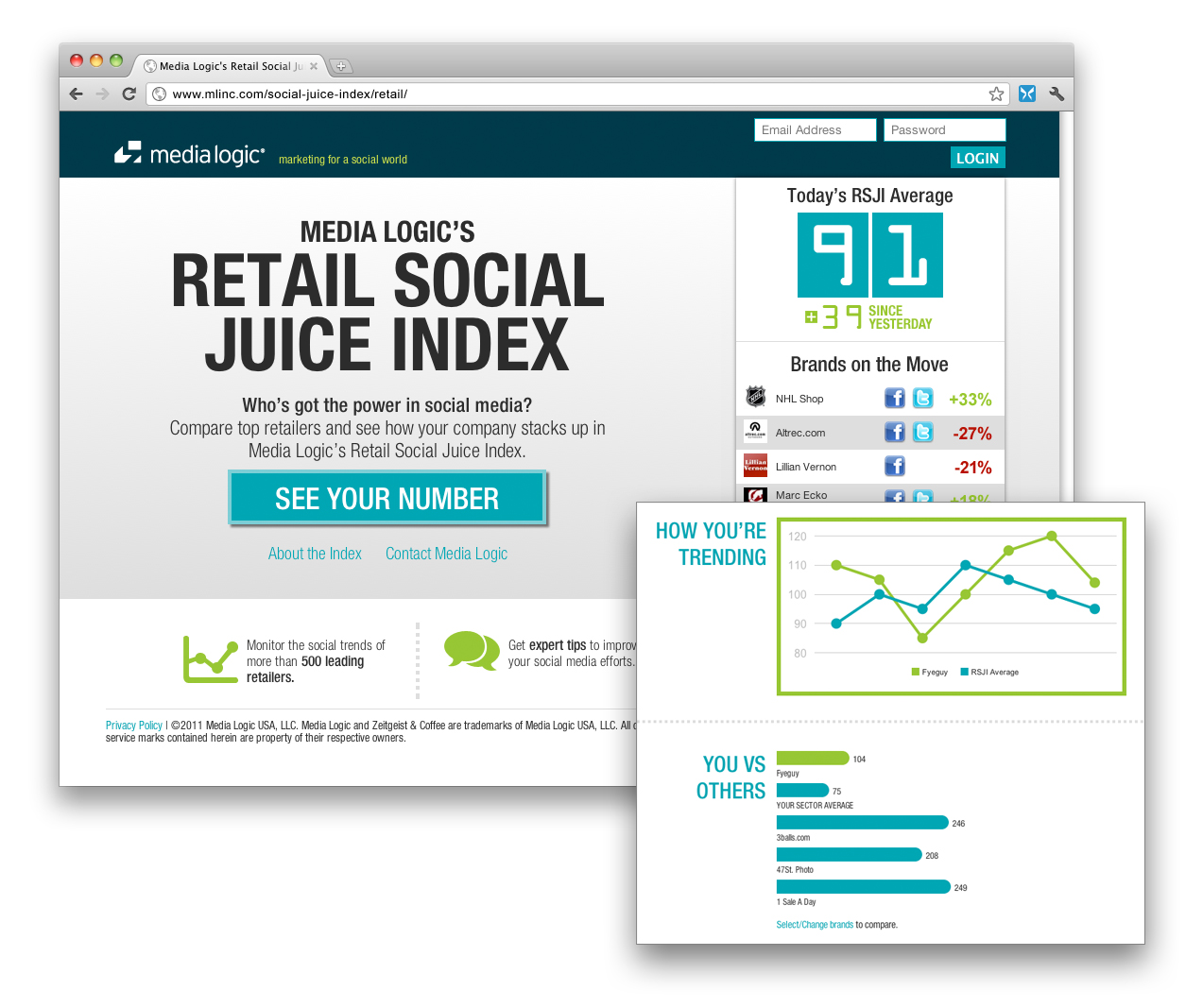 ALBANY, NY; Nov. 21, 2011 – Media Logic, a nationally recognized agency specializing in marketing for a social world, today announced the launch of the Media Logic Retail Social Juice Index. The Retail Social Juice Index measures social engagement for more than 500 brands across Facebook and Twitter, and then distills the data into a single useful number, providing daily measurement of the effectiveness of the measured brands' social promotion efforts. In addition to publishing an industry average on a daily basis, the Retail Social Juice Index highlights each day's biggest movers. Subscribers can also track up to 5 brands of their choosing and receive free weekly updates and analysis.
"We've been working on this for more than a year," said David Schultz, Media Logic president. "We have designed the Index specifically for national retailers, but we think businesses and institutions of all sorts will find it quite valuable."
Using the Retail Social Juice Index, retailers are able to not only track daily shifts in engagement levels but also quickly link to the Facebook and Twitter pages of the biggest movers, up or down, to discover what might be driving (or tanking) social engagement. Subscribers will also be able to keep track of the brands that most interest them and, for those retailers that are on the list, track their own performance against both the total Social Juice Index average and their retail sector average. In addition, Media Logic is providing weekly analysis of trends to help subscribers better understand the factors that lead to social engagement.
"There are lots of tools on the market that measure fans, traffic and engagement, including Facebook through its recently launched 'talking about this' metric," said Ronald Ladouceur, Media Logic executive vice president. "But while several tools combine results from both Facebook and Twitter, in our opinion, few weight the platforms and various interactions correctly. For example, we see Twitter as having great untapped promotional potential for retailers, and we wanted to make sure our Retail Social Juice Index gave proper credit to those brands that were doing Twitter well."
The formula Media Logic is using to arrive at the Index number is based on a review of published data as well as the agency's own extensive analysis and experience. The agency worked hard to create an algorithm that adjusted for key factors and properly weighted various types of brand and fan interaction. After testing and adjusting the formula for several months, Media Logic is confident the Retail Social Juice Index provides an accurate relative measure of social engagement between brands, of all sizes, across all measured retail sectors.
In addition to being a simple and useful tool for retailers, Media Logic hopes to demonstrate that social engagement correlates with business growth and general economic health.
To learn more and subscribe to the Media Logic Retail Social Juice Index, visit www.mlinc.com.
About Media Logic
Media Logic is a nationally recognized and award-winning agency specializing in marketing for a social world: social opportunity analysis, social brand and social platform development, influencer marketing, managed community marketing and social promotions and social stream marketing. For more information, visit www.mlinc.com.
###