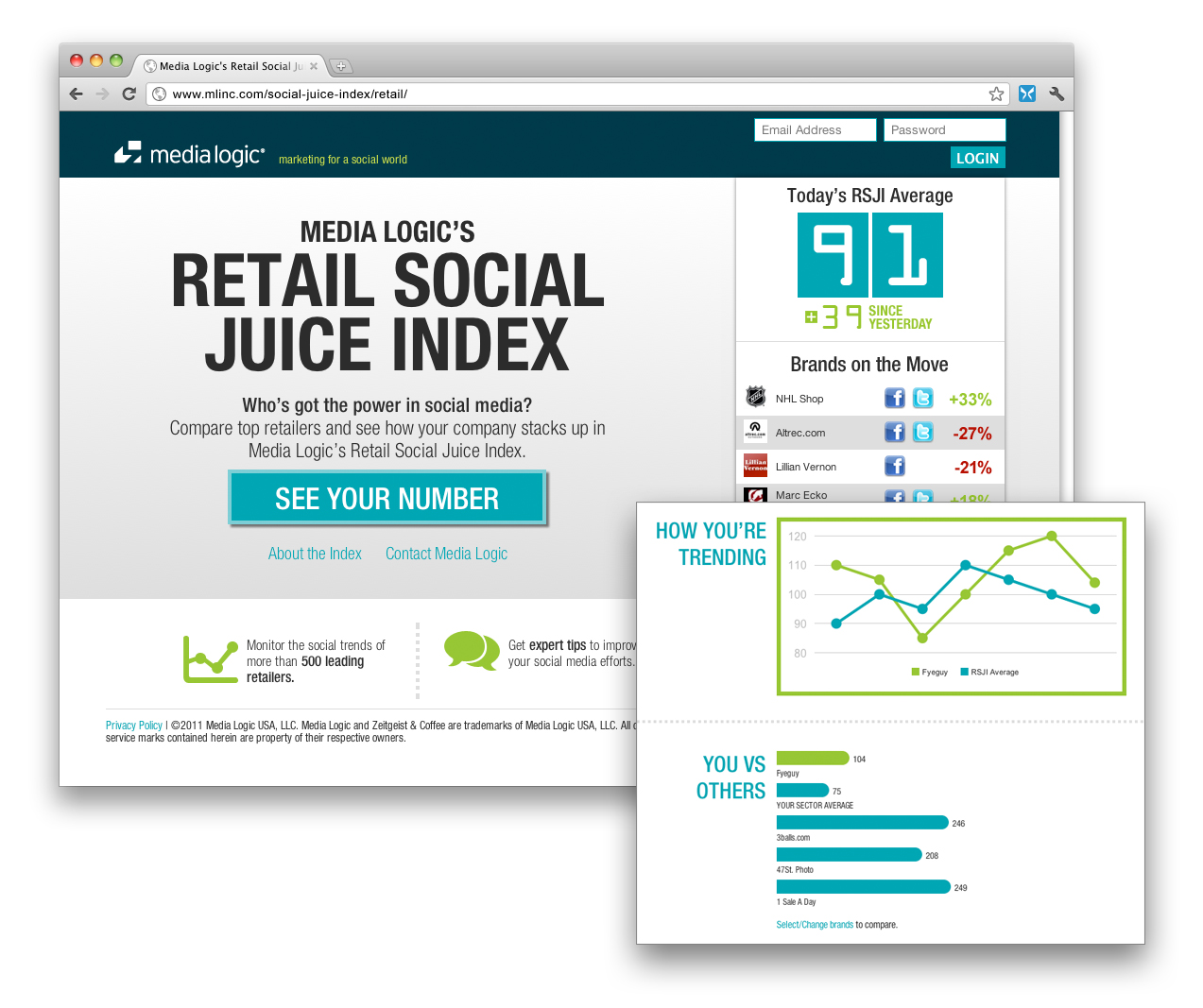 ALBANY, NY, Dec. 16, 2011 – Based on data gathered through its Retail Social Juice Index, Media Logic, a nationally recognized agency specializing in marketing for a social world, believes the following 10 retailers may be headed for a very happy holiday indeed:
American Girl
Ann Taylor
Bath & Body Works
Lakeside Collection
LeapFrog Enterprises
LUSH Cosmetics
Pandora
Shutterfly
ThinkGeek
Yankee Candle Company
These 10 brands have sustained a high level of positive fan engagement on their Facebook pages and Twitter streams over the last three weeks, each maintaining an average Retail Social Juice Index score of 150 or more. A score of 150 is a rare honor, with less than 20 retailers hitting that number for even a single day over the measured period.
"How closely does social media customer engagement correlate to national retail sales? That's the question of the year, and one that we think we might be close to answering," said Ron Ladouceur, Media Logic executive vice president. "If there is a correlation, we should be able to connect the dots between a Social Juice Index score and reported Q4 sales."
The Retail Social Juice Index measures fan engagement on Facebook and Twitter. Media Logic tracks more than 600 national retailers, assigns a weighted value to individual interactions based on a proprietary formula and publishes the data daily at www.mlinc.com/social-juice-index/retail.
"While daily numbers can spike for good reasons and bad – a successful promotion on the one hand, a customer service issue on the other – a consistently high Social Juice Index score is a measure of broad customer enthusiasm that can only be built up through a positive customer experience over time at all marketing touch points," said Ladouceur. "This enthusiasm, we believe, should correlate directly with the propensity of a customer to offer his or her recommendation. And in a highly networked, highly social world, there is nothing more valuable than a customer recommendation."
In addition to offering the Retail Social Juice Index metrics at no charge, Media Logic offers free assessments of how businesses can take better advantage of the new marketing opportunities available in a social world. The agency can be contacted through its website, www.mlinc.com.
About Media Logic
Media Logic is a nationally-recognized and award-winning agency specializing in marketing for a social world: branding, social promotions, influencer marketing and managed community marketing. For more information, visit www.mlinc.com; http://twitter.com/medialogic
###
Media Contact:
Jason Jansky
Downing Street Communications
(303) 748-3300
jason@downingstreetcommunications.com