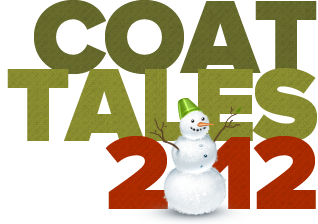 BOZEMAN, Mont. — Marketing communications firm MercuryCSC is hoping to take philanthropy viral this season, through a socially-integrated campaign called CoatTales.
The Bozeman-based agency has its eyes on thousands of unused coats in closets around the country that would be ideal donations to local coat drives. In order to motivate people to let go of their old coats, MercuryCSC is applying monetary incentivization, facilitation, and peer pressure, all through a website located at CoatTales2012.com.
The process for donors is simple, and takes less than five minutes:
Sign in to CoatTales2012.com with a Facebook account
Share a short story about the coat to be pledged
The site will create a custom illustration of the coat that can be posted online
For each coat pledged, MercuryCSC will give $10 to One Warm Coat – a non-profit that helps people organize and find coat drives in their local communities – on the donor's behalf
"Coats are sometimes hard to give away, because we like to attach memories to them. In fact, coats can be surprisingly emotional possessions," said Jeff Welch, president of MercuryCSC. "What we're doing is validating that connection — giving people an opportunity to give their coat a proper goodbye, tell its story to the world and give it a chance to have a real second chapter."
Users can also print a CoatMark™, which the site compares to the idea of putting a message in a bottle and tossing it into the surf. Once the coat is processed by local drive organizers and given to someone in need, he or she can go to CoatTales2012.com and "claim" the coat, letting the original owner know that it has found a new home.
The site integrates with Facebook's new OpenGraph API, sharing a story and the coat's custom illustration on a user's Wall when a coat is pledged. The text of the post asks the user's friends if they also might "take five minutes and share some warmth."
CoatTales users can easily find drop-off locations for coat drives in their communities by clicking through to OneWarmCoat.org. MercuryCSC is donating up to $5,000 to the charity to match the first 500 coats that are pledged through the site.
"If you were already planning to donate a coat, drop by the CoatTales site first and tell us about it. We'll help you spread the word and sweeten the deal with a cash donation to charity," said Welch.
"If you hadn't thought about it yet, maybe this is the nudge you need. Either way, we're hoping that together we can spread some warmth this Christmas season."
To pledge a coat, visit http://CoatTales2012.com.