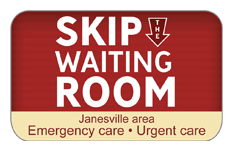 JANESVILLE, Wisconsin–Mercy Health System is pleased to announce a new service to reduce long waits for emergency care and urgent care called InQuicker. Beginning February 6, patients with minor emergencies and/or urgent care needs can wait at home instead of the hospital by registering online.
Five Mercy emergency departments and urgent cares now provide this service:
Mercy Hospital and Trauma Center • 1000 Mineral Point Ave., Janesville
Mercy Hospital and Trauma Center Emergency North, 3400 Deerfield Dr., Janesville
Mercy Clinic North Urgent Care, 2400 Deerfield Dr., Janesville
Mercy Clinic East Urgent Care • 3524 E. Milwaukee St., Janesville
Mercy Mall Urgent Care • 1010 N. Washington St., Janesville
How InQuicker works:
Log on to MercyInQuicker.org
Select a projected treatment time
Fill out a simple form
Wait at home until it's time to go
"Nationally, 9 out of 10 InQuicker users are seen within 15 minutes of their projected treatment times," said Glenn Milos, regional medical director of emergency services at Mercy Health System. "InQuicker empowers patients by allowing them to have a degree of assurance for when they will be seen by a health care professional and avoiding a long wait in the waiting room."
InQuicker is not intended for people with a life- or limb-threatening medical condition. These patients are prompted to dial 911 or go immediately to the nearest emergency room.
-END-